For those who found my ostrich ensemble a gross overreach, we veer back into normalcy today with a cardigan, silk shell, and trousers.




It's all perfectly normal.

Straight from the Talbots playbook.



O.K. Maybe the cardigan is paranormal.

I did tell you that this striped sweater would be useful. It goes with everything!

I was holding the sweater near some pale pink things in my closet when POP this combination appeared before me: kiwi and lemon plus the technicolor stripe.




If you are finding this stripe mesmerizing just in these photos, imagine what it's like in person. I could get lost in the pathways of this sweater, a little like the space-time web of Interstellar.

Have you taken note of something unusual? I am wearing white shoes with dark pants in the winter.

I typically wear these shoes during the warmer months, and I wear them sans socks. For the curious, I am wearing dark trouser socks here. Grow, kitten, grow.




This shell is pretty shapeless, so I added a belt to provide a little shape in the event that the waist were to show.

Perhaps this measure was unnecessary, but my mother always told me, "Hope for the best, prepare for the worst."



Don't these colors make you want a Granny Smith apple? Or a slice of key lime pie?
I recently read that white combat boots — particularly Doc Martens — are "in" this year.
I have not received any credit for this trend, but never forget that it started here, folks, in 2015 with
the Dainty Sianos
.
How is it that my greatest contribution to the Business Casual Universe is not being credited to me?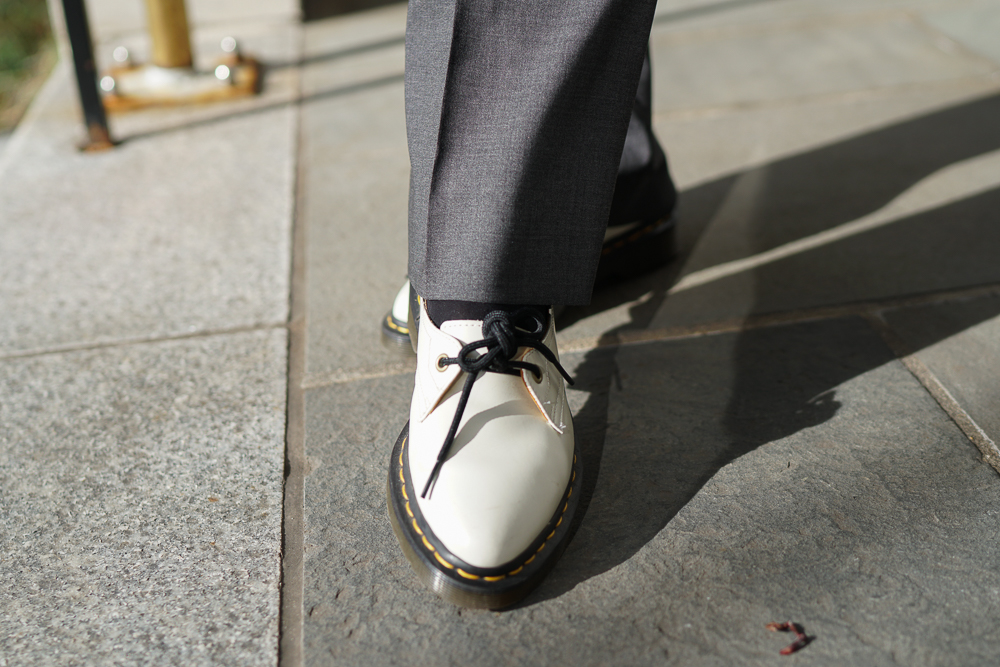 Sweater: Marques/Almeida; Shell: Laura Urbinati from YOOX; Pants: JCrew; Shoes: Doc Martens Siano