Continuing the Print Binge Confessional that started in early October, here is the last of the dresses that I foretold.


Surely you can understand the attraction?

The detail and color of this print approach botanical study quality, don't they?

Set against this rich, atmospheric grey, I was helpless to resist its depths.



In addition to the print, the dress has other attractions: floaty sleeves, romantic cuffs, and this remarkable waterfall effect down the bodice.
Is it too much? I realize that the print is loud and I am showing it against a backdrop that includes colorful rugs and other patterns in the foyer but . . . I really like it.



The folds of the fabric show the fabric reverse which seems wonderfully . . . assured.



All this floaty, crinkly fabric, viewed in profile, however, is not exactly working.

There's a lot of volume here.



Fortunately, there is an easy fix for the situation.

Are you thinking what I'm thinking?



That's right. Michelle Obama would wear a belt and we should, too.

I couldn't resist adding a scarf. I am not sure that it works, but the colors are perfect and I find that remarkable.

Michelle doesn't wear small scarves. Occasionally she wraps a large scarf loosely around her neck, but I don't remember ever seeing her tuck a small one into her collar.




Before settling on a look, I thought I'd try a red belt, too.

This belt is made of red wool and matches a dress that you've never seen. It's the perfect shade of scarlet.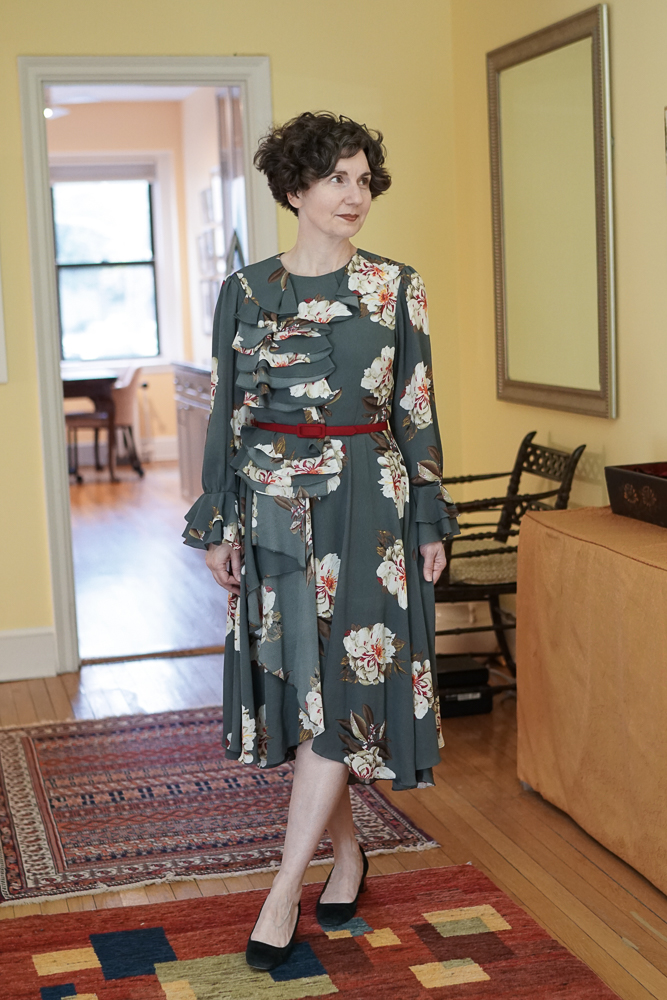 The red belt works with the dress, but does it work with the shoes? I am not sure.

Which belt do you prefer? Perhaps I need something in black suede or velvet.



Dress: Mikael Aghal from The Outnet; Black belt: DSquared2; Shoes: Tory Burch

In the photo at right, The Photographer said something risqué in an attempt to coax a lively expression out of me. He garnered outrage.