Continuing the week's early run on high summer clothes, I offer another very white ensemble.

Perhaps you remember the
last time
I said, "The heart wants what it wants?" To explain an inexplicable longing for a vaguely ridiculous, unwearable garment?*
My consumer's heart is not wholly monogamous and has occasionally pined for other ridiculous, unwearable garments. Garments like this quilted, cropped top that looks vaguely like a
Star Trek
uniform. Or a Space Invader.



I found this top on YOOX when I was looking for something else and for reasons that will shortly be revealed, I could not wear it as intended by Phillip Lim.

I feel certain that he would applaud — not simply understand — my improvisation.
Are you wondering where we are? The backdrop is as weird as the top.

We are at the National Harbor — an immaculate place that feels like a habitat created by extra-terrestrials for the human specimens they collected on Earth.** It's close to the real thing, and has authentic touches, but something's not quite right.


Back to business! The top: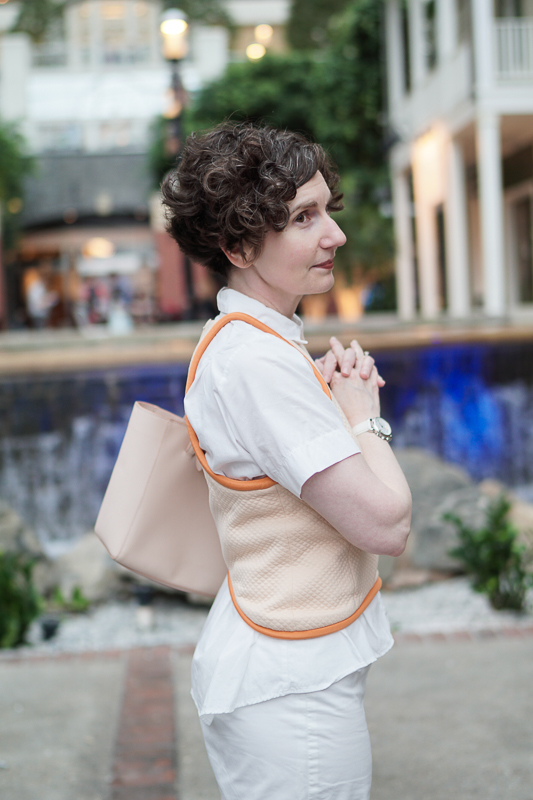 Why are we at the National Harbor?

I've come to meet a reader. A famous reader!

It's PJ Manney, who occasionally posts comments on this blog. She was in town, speaking at a science fiction writers' conference, and I was so excited to meet her.


Let's take a moment to applaud PJ's weirdy green, techno fabric jacket, which she told me she wore just for me. It looks fantastic with black, would look equally good with white, and sets off her hair beautifully.



I also love these sneakers, which seem like the perfect thing to pack for a little glamour on the road. (PJ was visiting from California.)




We had so much to talk about that clothes only warranted a quick compliment: Wesleyan University, crypto-currency, entrepreneurial spirit, The Americans, settlement patterns of English immigrants in 17th and 18th Colonial America.
I wanted to ride this Ferris wheel, but it wasn't operating by the time we finished dinner.
Also, there was an electrical storm coming and . . . that's not the best time to get on a Ferris wheel.
Have a fantastic weekend! If you are looking for something to read, check out
PJ's novels
:
(R)evolution
and
(Id)entity
.
Vest: 3.1 Phillip Lim; Blouse: ASOS; Pants: Ann Taylor; Shoes: Cole Haan; Bag: Tory Burch
* Oh, I wore
it
.
** Of course I am thinking of Tralfamadore.