Soooo . . . vests are everywhere this season. By everywhere, I mean in the fashion magazines and blogs.

You understand what that long, drawn-out "Soooo" really signals? I feel like I am not going to get credit for this vest-craze, when I've been wearing vests (layered crop tops, sweater vests, and elaborate vests) for years.* Just like the time that I did not get credit for popularizing white Dr. Martens.



I found this ivory linen vest — I think it's a vest — on The RealReal this summer and thought it would be just the thing to wear over a blouse in the spring and fall.



I suppose it could be a top, like a tank top — but it seems a little skimpy and transparent to be worn alone.

A vest it is.

I wore this outfit to a casual networking lunch for lawyers in D.C. last week and three different women came up to me to say, "I like your . . ." and then didn't seem to know how to finish the sentence, which made us laugh during each introduction. We tried "breastplate," "thing," "what you're wearing" — but ultimately agreed it was, more or less, a vest.
Never forget that wearing an interesting top or an interesting piece of jewelry (
interesting
, not
zany
) to a social worky event makes for very easy ice-breaking.
Action shots! Here, your Directrice is rushing her Photographer. Even though he is concentrating on adjusting his settings, he notices the movement because I am prancing toward him on the diagonal, like a crab auditioning for a chorus line.


Come closer and take a gander at the vest.

Also worthy of your attention is the striped shirt beneath it, which I honestly think was sent to me in error by an overactive cookie. I remember placing it in a shopping cart and then removing it. Several weeks later, it arrived at my house. I was never charged for it.

I felt a little bad about receiving a free shirt and then thought, "If you're going to surveil me on Internet and then $%&* it up, that's really on you."


Let's focus.

Note the black topstitching, picking out the construction of this piece. It also marks an "x" over my xiphoid process — very helpful for anyone who might administer CPR to me.


This graceful striped shirt features a shirt-tail hem that is split just at bottom of the side seams. You can see the split in the previous photo.


In this photo, you can see the defined pleats that shape the puffed sleeves.

You may also be able to appreciate how nicely the stripes have been oriented on different parts of the shirt.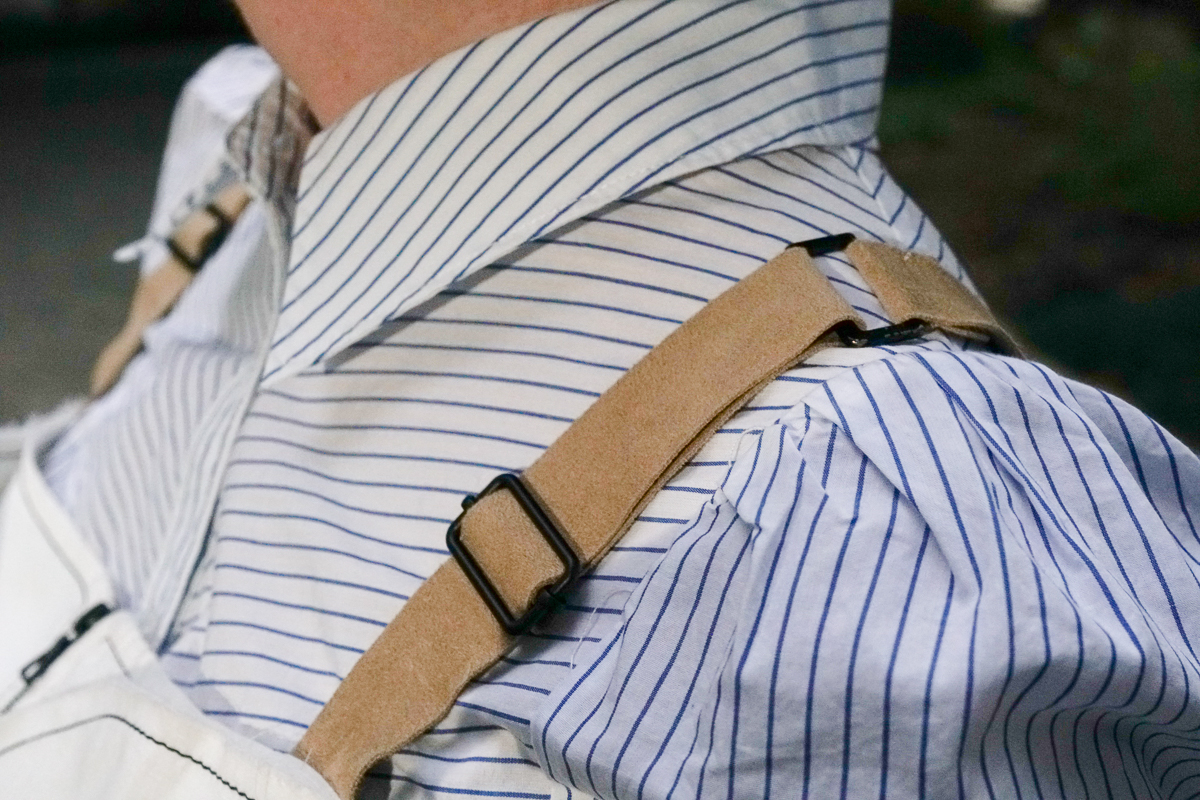 This zipper doesn't serve a purpose because it stops at the waistband. But is an important graphic element, working with the top-stitching.

The Photographer thinks the whole thing reads very Wonder Woman. In (need I even say this?) a good way.
* I could go back to 2015 to prove this, if necessary.
Vest: Colovos from The RealReal; Striped shirt: I cannot say because . . . what if the cookie is still watching me, realizes its error, and files a suit for replevin in chancery! I really love this shirt.