Last fall, I showed you — in all seriousness — how to wear a bustier to work as part of a Business Casual outfit. I also promised to show you how I have worn it on Casual Friday and on the weekends. Let it never be said that The Directrice doesn't honor her promises, even if it takes her a long time to do so.


For those who've forgotten, a navy blue suit . . . of sorts.


Here is the same bustier, suited for Casual Friday: a long-sleeved jersey underneath, jeans, and an interesting necklace for fun.


This bustier has a great shape; all of the pleats at the waist create a beautifully defined bell over the hips. So feminine.

Am just realizing that when I actually wore this outfit to work, I wore it with leopard print flats. So . . . take a few seconds to imagine that because I'm not re-taking these pictures.


This multi-strand necklace combines a mix of chains with sparkle and roly-poly trade beads, which I think are the best part.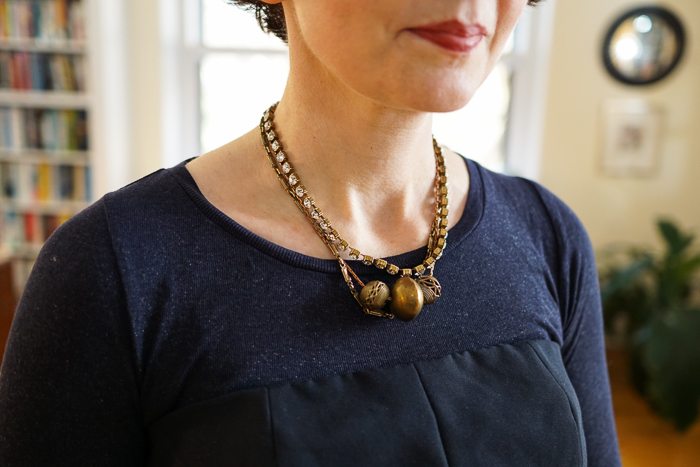 Hold on! We're not done. Here's how I've worn this bustier on the weekend, to a party.


With a striped jersey!

But it looks a little bare. It needs a little something.


Let me think . . . think . . .



Exactly!


The stripes are busy and require something bold to stand out against them. This necklace qualifies.

A floral bag rounds things out — and it's just big enough for reading glasses (I like to party), tissues (party like a rockstar), money (tips, bribes, bail), and my driver's license (organ donor).



The details will now be shown in detail.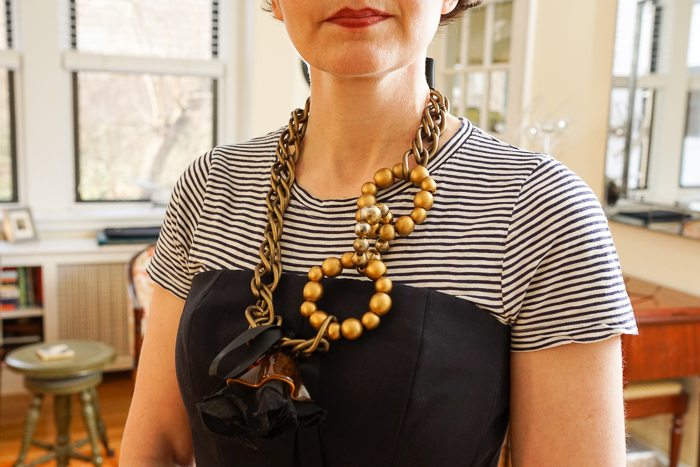 Have a fantastic weekend!
Bustier: Rebecca Taylor; Tee shirts: JCrew; Jeans: JCrew; Mixed-chain necklace: Lulu Frost; Enormous necklace: Marni; Bag: Tory Burch; Shoes: French Sole New York