Sometimes the oddest combinations come together very effectively. Behold the smock-like jacket and beruffled blouse that were matched unexpectedly.
Conventional wisdom tells us that we should: (1) shop with clear purposes in mind (
I need a black jacket!
); and (2) add garments to our wardrobe only when we have satisfied ourselves that they will relate to some arbitrarily-selected number of garments already in our possession (
This jacket must go with three other things in my closet!
). These rules are, in general, a good idea; if regularly applied, they will prevent the accumulation of a totally incoherent collection of clothes.



But sometimes, the heart simply wants what the heart wants — like this jacket with many pleasing attributes. The fabric is a linen-cotton blend that has enough structure to give the jacket presence without being too stiff. The pleated neckline stands up and away from the neck. Top-stitching in white highlights the construction.

The jacket was too big for me, but not available in a smaller size, so I asked my tailor to narrow it by simply moving the closures (a column of snaps hidden behind the placket) over two inches. A very lazy — but in this case effective and low-cost — alteration.
Despite these virtues, I wasn't really sure what this jacket should be paired with when I bought it.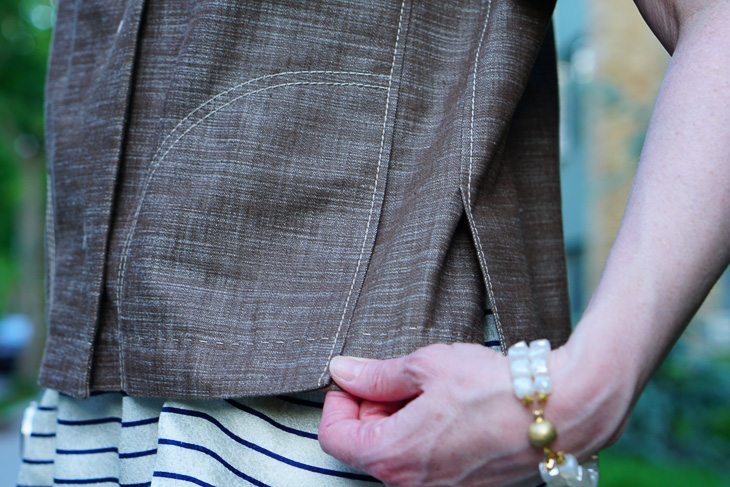 The blouse is harder to explain. I ordered it because I love stripes, but was perplexed when it arrived by its many contradictions. Billowing shape with deep v-neck? Pockets made of a fabric too light to hold anything more than a clean tissue?
But I was charmed by the ruffles on the shoulders and neckline which were too irresistible to let go.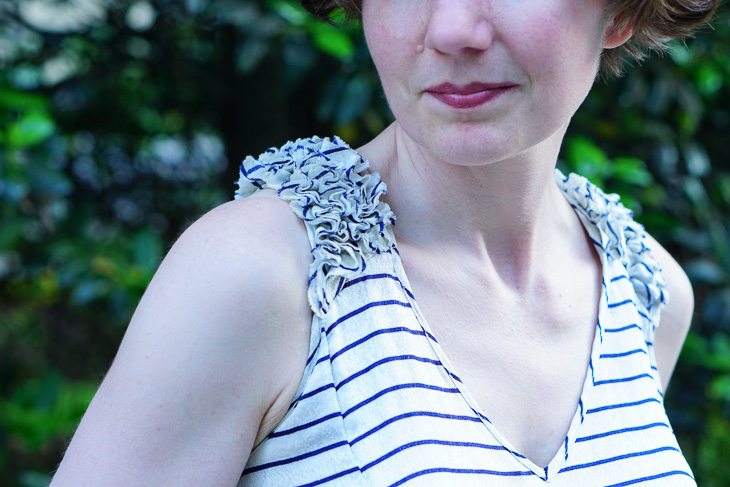 So these two appealing, but somewhat useless, garments were co-habitating in my closet when I had an idea. I love this jacket and I love this blouse, so they should be together! [Warning: This idea sometimes works with clothes, but rarely works when you try to set friends up.]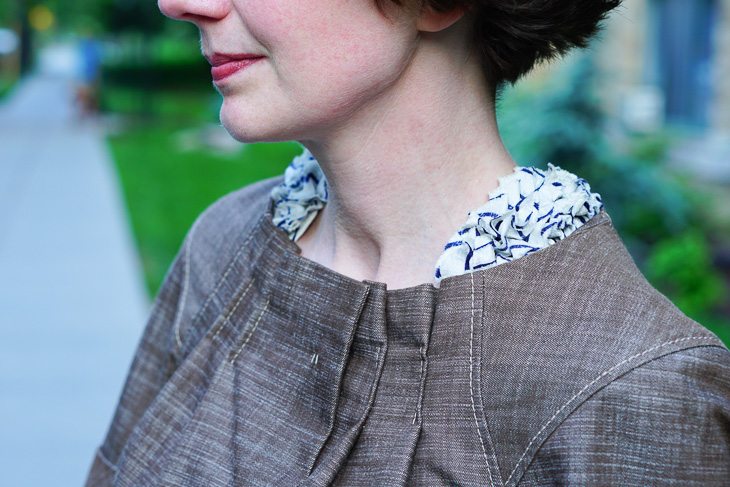 The ruffles fill — really, nestle in — the neckline. And the jacket constrains the billowing of the blouse.
Together 4eva.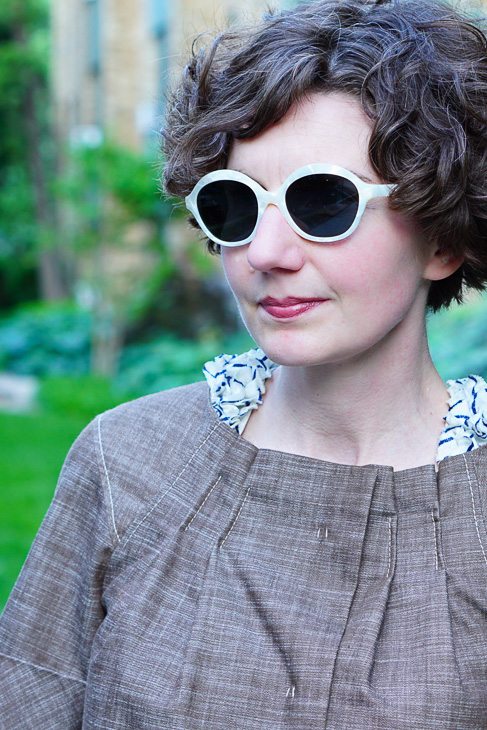 Have a fantastic holiday weekend!
Jacket: Alberta Ferretti; Blouse: Rebecca Taylor; Jeans: Lucky Brand; Shoes: French Sole New York; Bag: Coach Poppy Tote; Bracelet: Dina Mackey; Watch: Shinola; Sunglasses: Elizabeth and James