Do I yield too often to impractical impulses?



Perhapsleberry.

I bought this backless top a few years ago because I could not resist the color. Or the slightly absurd drape.

A backless top is pretty impractical. But it can be paired with a linen camisole — et voila — I am sort of dressed for work.
Remember: We have unilaterally extended the summer here at Directrice Global Industries because I still have summer ideas to share. Speaking of global, today we went to an area a few blocks away that is stuffed with embassies.
I am dressed for Casual Friday (or Free-fall Thursday) in the summer.
Two wrongs make a right
again
!



I say two wrongs, but the linen camisole is actually very right. I often wear it as a layering piece under cardigans.




Perhaps if you come closer, you will see what captured my fancy.

This Granny Smith green may look harsher in photos than in does in real life.



So much to love: top-stitching, frayed edges, shapes that could be flowers or continents



Primitive snap closure.
We took these photos in International Park, which is in the middle of the embassy area, and saw a very chubby wild rabbit and several butterflies.


Rounding out the impracticality, a tiny straw bag.

I cannot imagine what impact rain would have on this bag.


It's just big enough to carry a pair of sunglasses and a mouse's bicycle. I could also fit my wallet in it.



The bag cannot simultaneously hold my wallet, a small make-up bag, sunglasses, and glasses. I just like to look at it and touch it.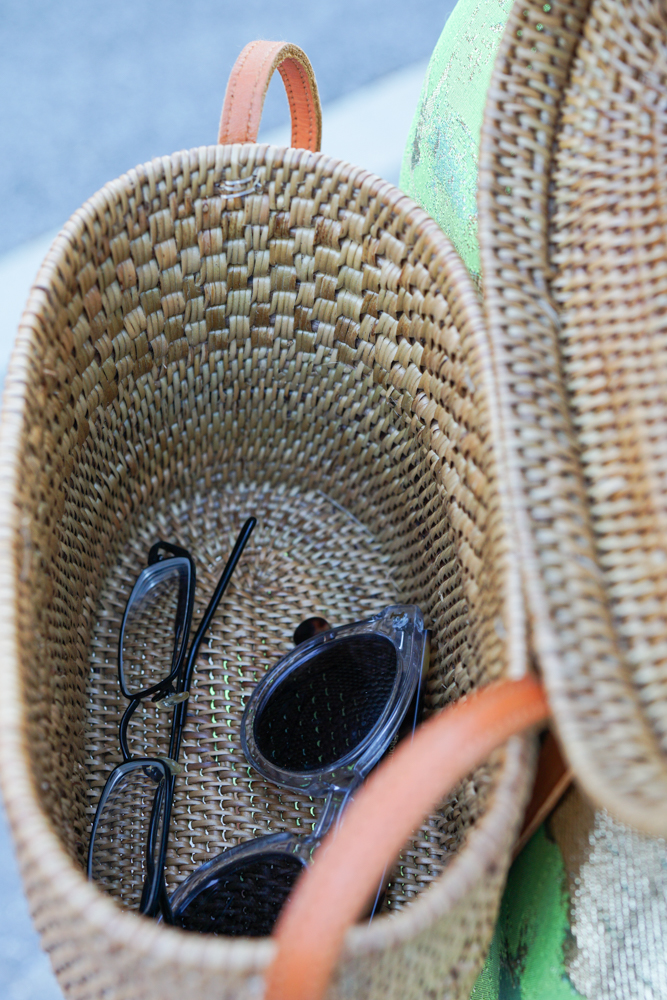 Have a fantastic weekend!
Green top: Marques'Almeida; Camisole: Eileen Fisher; Pants: JCrew; Shoes: Donald J Pliner: Bag: Bembien; Sunglasses: Illesteva