My best friend is going to her 30th high school reunion in June and she needs to "look awesome, but not like she was trying."*

I comprehend perfectly. I have a few ideas and I am going to share them with you in case you, too, are headed back to school this summer.

For simplicity's sake, Megan and I agreed that she would probably wear some sort of white pants — denim or twill — and a pair of beautiful block-heeled sandals that she bought last summer.

So what do we need? A great top and a smart jacket, bien sur. I am envisioning a palette selected from navy, black, white, and tan. A fetching top in any compelling color, however, could knock navy off the table.

For reasons I cannot explain, I feel drawn to one-shouldered tops. They seem very fresh to me.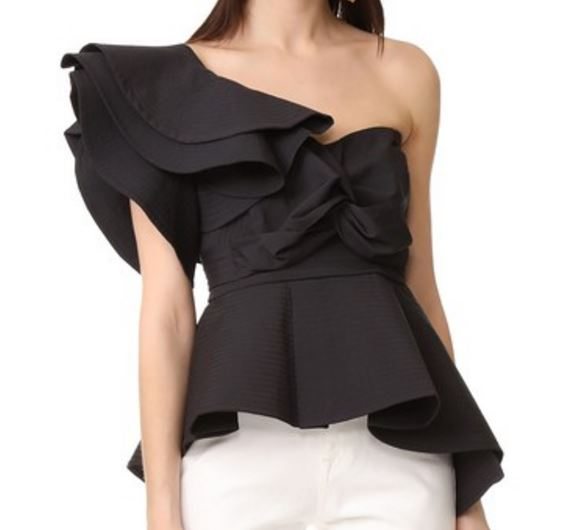 Megan and I are united in our dislike of cold-shoulder tops.** The concept drives me crazy (fashion compromise? why?) and the execution depresses me because they often look so droopy. But these two tops overcame my principled dislike and I am setting them before you, like a cat laying a dead bird at her owner's feet. Megan has already rejected them.
And now a few regular sleeveless options.
I found rather slim pickings looking for jackets on YOOX, Shopbop and Neiman Marcus. I do like all of these.


If money were no object, and I were going to this reunion, I would wear one of these.

If you have had a recent reunion triumph (sartorial class), please do share. Tell us what you wore!
* Her words.
** Megan and I are united by so much more. We lived together in college and for three years afterwards. We speak to one another in a coded language derived in equal parts from Pride and Prejudice and Spinal Tap dialogue, typo-speak, predictive puns, and baby-talk, and when we are physically in the same place, we may do so while practicing a two-step.