Surely you knew this day would come? Some of you have probably been waiting since Katie Holmes set the Internet on fire with her Khaite cashmere bralette and cardigan in 2019.

Khaite may have created the look, but two years later many mid-range and affordable choices are out there.
JCrew
and
Anthrolopogie
had a version of this garment this fall. If they're sold out now, look for post-Christmas returns to replenish the stock.


I liked Katie Holmes's look — but in 2019, it seemed unworkable to me.

But seeing a range of bralettes in 2021, with the perspective of 20 months of relative isolation, the path became clear to me.

The answer to this puzzle, and so many other questions, was simply layering.



You know I love a cropped top over a blouse. You know I love a sweater vest.

This is their love child.



I thought this top was so cute that I ordered it in black for my best friend's daughter, who just turned 15. She loves it.

I hope I didn't taint that love by telling her that I have one and am wearing it to work.
I love the shape of the neckline, but thought it might benefit from a brooch on the shirt. I took a chance and added a bolt of intense color: this wonderful silk embroidered brooch from Louise Perrone.

This beautiful piece is peacock blue silk embroidered with lines of running stitches in dark blue. The back is lined with dark blue velvet and, best of all, it attaches with magnets. While the weight of the brooch is negligible, the magnets are still terrific.
For those who feel the brooch is too futuristic for the staid office, that's easy enough to address.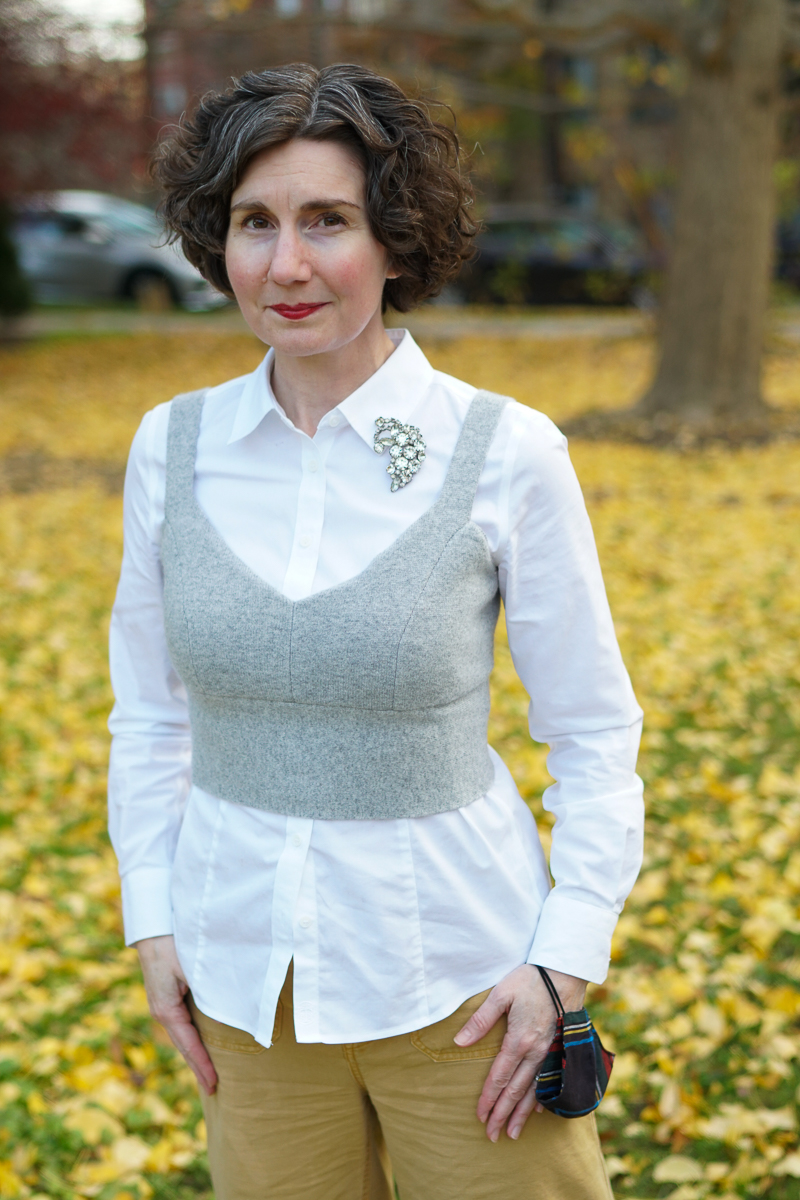 I think we can all agree that this was the best $20 I've ever spent. I found this brooch at an antiques/junk shop in San Antonio, during a conference break in 2000.
Shirt: Talbots
Perfect Shirt
(stock up now while they are 40% off, it really is a perfect shirt); Cashmere Vest: Anthropologie
Maeve Cropped Knit Tank
; Brooch:
Louise Perrone Flagged Brooch
from
Ombre Gallery