You heard a tale of woe — cornerstone khakis now too baggy to wear that must be replaced — last week. The search for good khakis is probably, like the search for the perfect white blouse, a lifetime endeavor that never really stops, but rather intensifies and wanes as necessary and appropriate.



Here at Directrice Global Industries LLC, we are in intense search mode.

I am rather taken with these khakis from JCrew. If they were full length, and not slightly cropped, I would buy two pairs, kick back, and rest for a few years. But they are cropped, and therefore not fulfilling all of my needs.


For reasons that I cannot fully explain, I feel that the cropped length requires a waist defining top, which could be a blouse, jacket or fitted jersey.

This sleeveless denim top looks smart over a long-sleeved white blouse, doesn't it?
The peplum on this Theory top is longer and fuller in the front than in the back. That seems strange to me — like an inversion of universal principles of proportionality — but perhaps it is not my place to question this design. Who am I to gainsay Theory?
Looking at this top in profile, I realize that it would look most charming with a white blouse that was as long in the back as the denim top is in the front. But the blouse I have works well enough.
Here is a sad fact: The cutest feature of these pants is that they have a little ruffled trimming along the slash packets and waistband. But because I rarely wear my blouses tucked in, the trim will not show.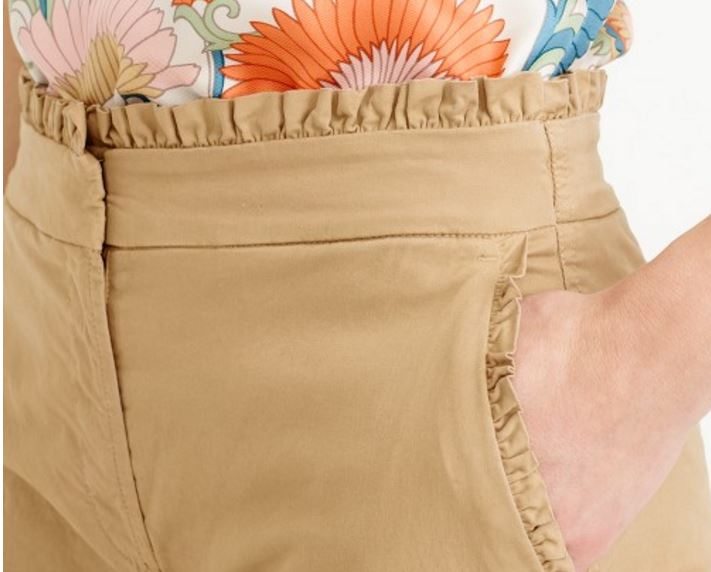 Now back to the low-high profile, because I just cannot let it go.

What is the purpose, the inspiration? It this a modesty panel? A . . . codpiece?

Is it simply the product of a designer's mandate to make something different regardless of whether it is better?


One final note: A black bag would have been a natural choice here, but I like the glossy navy tote, which looks so pretty with this dark rinse denim.
Denim Top: Theory; Blouse; Talbots; Pants: JCrew Ruffle Chino Pant; Shoes: Coach Noella; Bag: Coach Poppy Tote