The Photographer suggested this weekend that we go downtown to take pictures. He thought I should do this to prove to readers that I really live in Washington D.C.



I told him that readers have occasionally questioned my judgment and taste, but that no one had ever challenged my residency in the District.

Understand that I hate heat and I hate crowds and if left to my own devices would happily spend the whole of every weekend chatting with Harper on the big (i.e., human-sized) bed. But I sensed The Photographer really wanted the fun of going on location and so agreed that after our separate plans for Saturday afternoon we would meet at the World War II Memorial at 7:00 p.m.


From the WWII Memorial it's a short walk along the reflecting pool (or, more comfortably, in the shade of the allees that line both sides of the pool) to the steps of the Lincoln Memorial.


So here we are, at the Lincoln Memorial.

It was actually a beautiful evening.

I always forget how fun it is to see the Washington sights on a beautiful evening. So much diversity — tourists from overseas, visitors from all across the country, D.C.-area families, and young locals. And us!


If we wanted these photos to be clear of other people, we'd have to get up really early and come down within an hour or so of sunrise. This means I'd have to get up c. 5:30 a.m. to ready myself for picture-taking.

I think you understand what I'm saying.

That's not happening.



The Directrice, master of disguise, can blend into any environment.


I have decided to rest a minute. These shoes are not made for seeing the sights.

The Photographer is encouraging me to slide toward this unsuspecting family group. I am ignoring his appeals.

Should I stop the travelogue and tell you a little about my dress?

It's actually a strapless cotton dress layered over a sleeveless cotton blouse.

Pretty clever, right? This dress would also work well with: a black blouse; a white or black short sleeved blouse, and; blouses made of linen or silk. It might even be charming with the right floral blouse.

The pattern is glen plaid, which I love for dresses and skirts. I, personally, would stop short of a full suit in glen plaid– although it works well for men's suits.


The Photographer continued to click away until I had to fend him off like a total celebrity.
Here are the details:
blouse neatly tucked into neckline;
simple black bag and subtle metallic leather watch band;
pair of inverted pleats at the waist give the skirt a bell shape and terrific ease.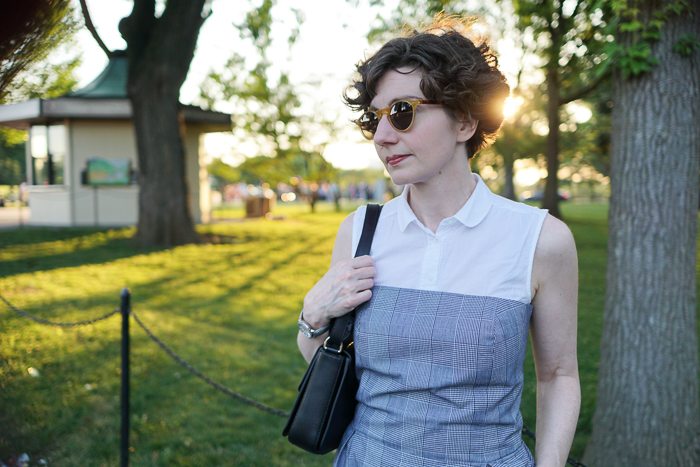 Before leaving the park, we stopped to create a double self-portrait.

I think this one truly captures our character.
Dress: Aquascutum from YOOX; Blouse: Jack Wills from ASOS; Shoes: Cole Haan Catalina Wedges from Zappos; Bag: Furla Metropolis; Watch: Michele Serein 16; Sunglasses: Illesteva Marco in Blonde (no longer available, but check Illesteva's optical frames)