After showing you a brief film of this dress, I thought you might like to see it frozen in a moment on the sidewalk. Why wouldn't you? Also, I only have so much material for this blog.



One would never guess that I might run out of material for this blog while looking in my closet.

It's closet-turnaround weekend and I have determined that I need to prune my wardrobe.

The problem is: I like it all.
I realize that having too many clothes that I like is not a very sympathetic problem. But surely having
limited closet space
is.

The weather is finally turning in Washington, D.C. and it's a relief to put on fall clothes.

This dress — a lively navy and black combination — seems appropriate to the season . . . even though I generally associate navy with spring.



I realized that I had forgotten to wear some jewelry when we were taking these photos.

Here is Take 2, Option 1.

These Venetian glass beads are luminous against a dark field.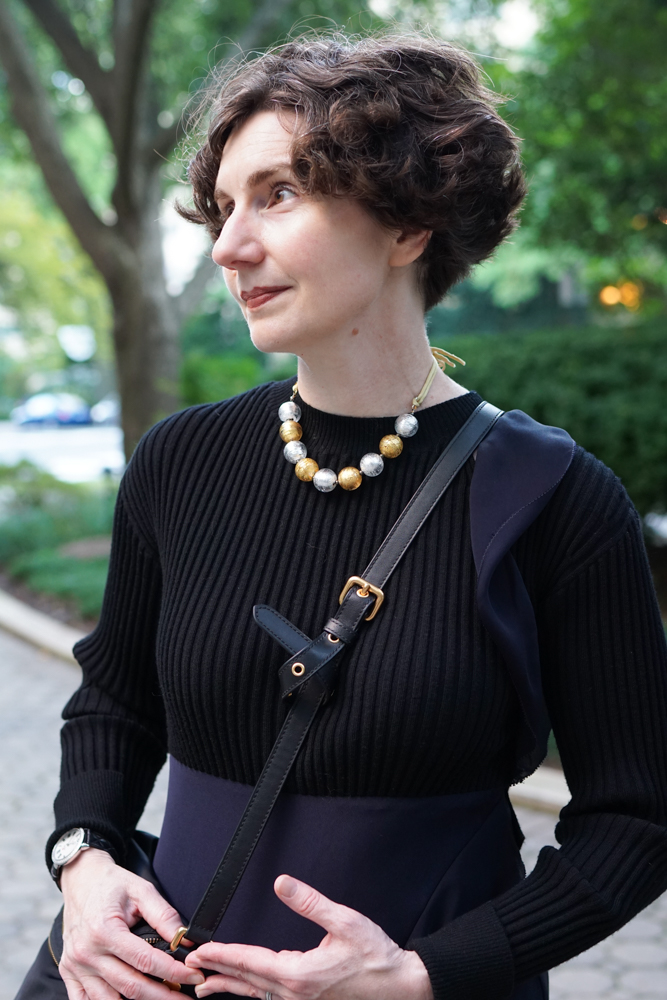 Come closer and bear witness to the deliciousness of these beads.



Take 2, Option 2: In the alternative, I tried a rock quartz necklace — which reads milky, translucent white.


I prefer the Venetian beads, but what do you think?
Back inside, The Directrice is all business. The Photographer always catches the funniest expressions when I am working.
Dress: 3.1 Phillip Lim; Shoes: JCrew; Bag: Marc by Marc Jacobs; Venetian beads: Wedding guest; Rock quartz necklace: David Yurman
* The first person to guess the source of this phrase will win a prize from the closet pruning. No using the Internet to run it down.
** You have to read the comments from
Be Prepared
to understand.