It's been a little while since I've shown dress-over-pants. Have you noticed that fashion editors have been aggressively promoting this look since pre-Fall 2015?



For me, this look is a way to wear short dresses.

I was on some website the other day (Shopbop? Neiman Marcus?) that allowed one to sort dresses by length (mini, knee, midi, evening) and noticed that a significant number of the "knee" length dresses only came to mid-thigh and that some of the "midi" length dresses ended at the knee.

Hmmmm. While I understand the commercial strategy behind vanity sizing, I am at a loss to understand what purpose is served by misleading statements about dress length. Any delusions you might have about your own height are checked as soon as you stand next to another human being.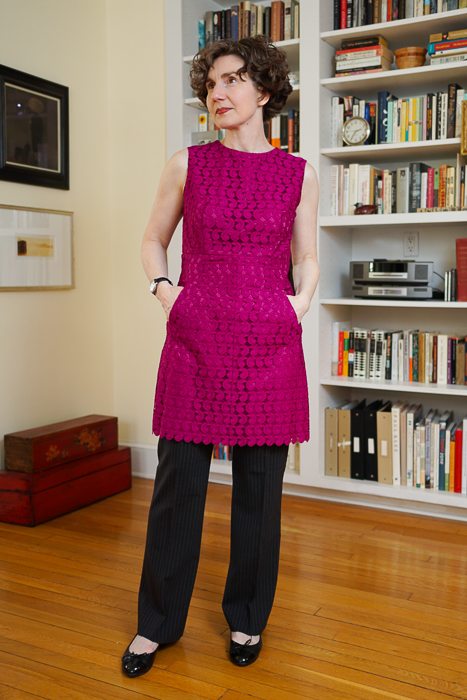 This dress is a saturated fuschia; the color is so intense, it's a little hard to stop looking at it once you've started.


Not all laces are created equal. Some are prettier than others. I love this lace, which is row upon row of little paisley figures. Or are they packing peanuts? Amoebae?

As if the color and amoebae weren't enough, this dress has clever, svelte pockets.


Just a few more details:


I need a sweater to stay warm.

Just a little sweater.
For more ideas about dress-over-pants, you may want to look at these chestnuts from the archives:








Dress: Diane von Furstenberg; Pants: JCrew; Sweater: JCrew; Shoes: French Sole New York; Watch: Michele 16 Serein