I love the expression, "When you're a hammer, everything looks like a nail." I hope it doesn't describe my approach to legal problems, but I think it does describe one aspect of my pandemic wardrobe.



When you have one pair of black sandals, everything looks like it should be worn with black sandals.

I was too lazy during the summer of 2020 to retrieve all my summer shoes from our storage bin in the basement.

And when summer 2021 rolled around, I couldn't see much point to exerting myself. I'd proven in 2020 that one could get by with one pair of sandals.


If one were only to have one pair of sandals, I have to say that black sandals with a white wedge sole is a pretty versatile choice.


They certainly look perfect with this crisp, cotton Sacai shirtdress that I bought from The RealReal in 2020.

From the front, this dress appears to be a straightforward, trim shirtdress. But the back is longer and wider than the front, and textured with side-to-side 1″ pleats. To control the volume of this panel — which is probably twice as wide as the front — the waist can be cinched with an adjustable belt.

This dress does add some volume to The Directrice Herself, but I love it regardless. Maybe I love it because.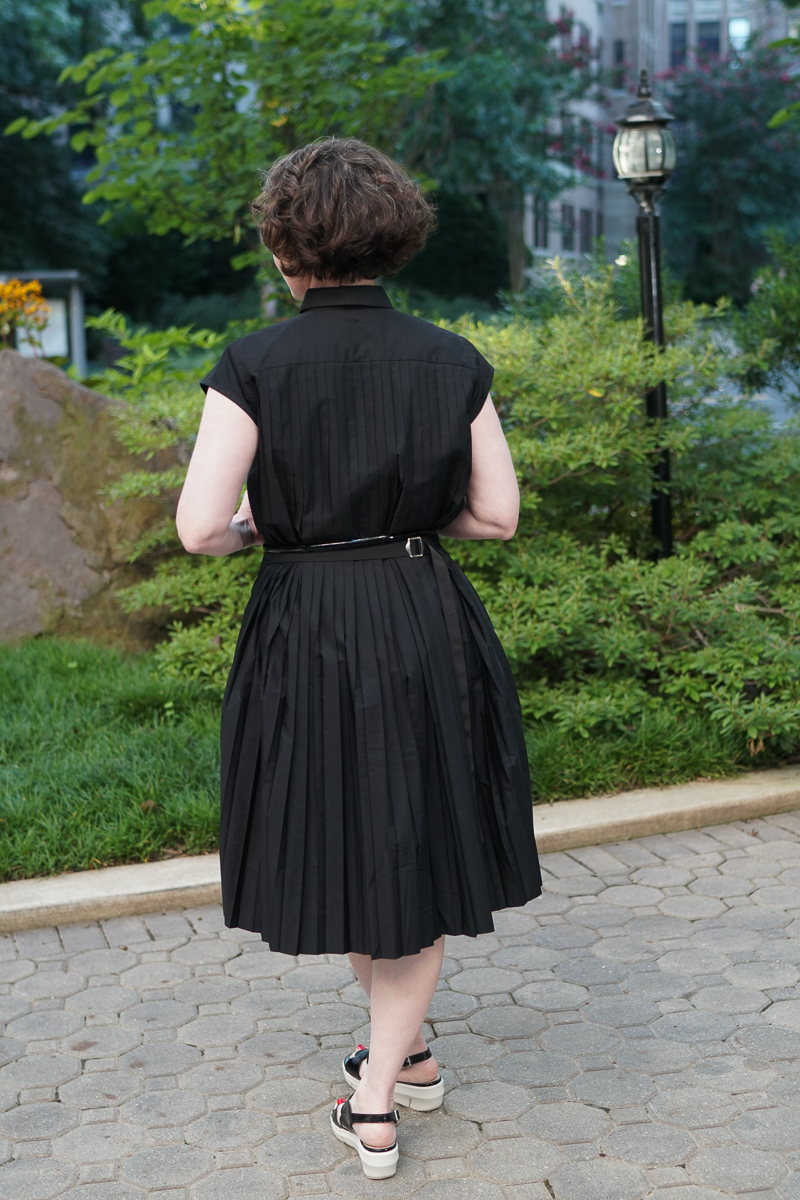 The built-in belt hits a little below my natural waist, so I added a skinny patent belt to the mix. I am pleased with the effect.

Note: I thought about opening the side seams and adjusting the position of the built-in belt myself — but this dress is so beautifully finished that I could not bear to apply my own hand-sewing skills (Boo Radley!) to the elegant French seams.



To make the dress and the day — the first Monday in August — a little more special, I added a brooch.


You've seen this before, but take another look.

It's a stack of thin layers of wood, cut like a topographical model.

From a distance, it has the look of an extremely modern cameo.


Up close, it looks like a portal — or possibly even a wormhole to another place in the universe! How magical is that?
I've been meaning to recommend two blogs for your consideration —
Long-time Directorate Citizen Hope Perlman writes a blog called Unmapped Country. Several weeks ago, she posted this
lovely essay
on possessions, value, and the nature of impermanence. I enjoy all of her posts, but this one struck me as particularly resonant and valuable.
A friend, Liza Achilles,
blogs about
writing, reading, and the search for wisdom in books. Liza has such a clear voice, and so much enthusiasm for the written word (particularly fiction), that I enjoy her book previews even knowing that I can't keep up with all of her recommendations.