In searching for white dresses for you, I found a new white dress for myself and therefore decided to do one last Woman in White post as summer winds down.

This dress has a very flattering silhouette, and one that is easy to wear. The waist is shirred and raised a little (but not empire); the skirt is a-line. With minor alterations, the skirt could also be straightened (taken in from hip or mid-thigh to the knee) and then would have a lovely bell shape.
What I like best about the dress is the frayed edges around the armscyes. It's just a little distinctive and makes the dress fun and memorable.
I had to have the dress taken in a little to tighten the armscyes and shortened a couple of inches.
For those of you who are leery of white dresses, I hear your concerns: sunscreen, coffee, tiny jam and ketchup handprints. This dress comes in colors: lavender, cornflower blue, and a subtle ticking stripe. It's made in New York City by a small label called
Loup
.
A white cotton dress is the ultimate blank canvas, no? So I am showing it with different accessories in two color combinations. The first, above and directly below, is white, black, and blue.

I know these sandals are awfully bare, but the city has really emptied out and I don't think those who've stayed behind are paying attention.
And now a radically different look.















Perhaps not radically different, but another option: white, pale pink, and chocolate brown.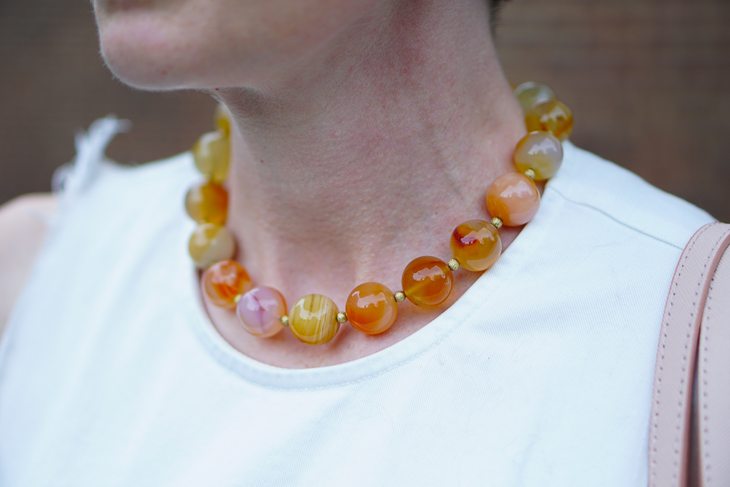 Dress: Loup White Sea Dress; Black sandals: Donald J. Pliner; Brown sandals: Timberland; Black floral bag; Kate Spade; Pink bag: Tory Burch York Small Buckle Tote
The Jewels! The blue Delft tile brooch was a discard from my best friend's jewelry box, but after seeing it discussed and featured on this blog, she may be preparing a replevin action to secure its return. Similar ones can be found on eBay. I found the agate necklace in a small antique store in Genoa. If we went to Genoa together, I am sure I could find the place again and then we would have huge plates of pasta to celebrate — but until then, you can look for agate and other stone beads on eBay. You will find hundreds (perhaps thousands) of necklaces for sale and among them many beautiful, vintage strands of beads like this.
And for those of you who are done with summer, I thought this dress from Loup would look great with a pair of cropped, grey wool pants and black penny loafers. Are you looking forward to fall?