When I go on vacation, I try to avoid overpacking. Shoes, for many people, are where the wheels come off — figuratively, if not literally. So my rule is: WEAR a pair of stylish sneakers, PACK two pairs of proper shoes (a pair of black flats and either my leopard Mary-Janes or black penny loafers).
What do I mean by "stylish sneakers"? Well, the progenitor of stylish sneakers is the Converse All-Star, born in 1917 . . . although it was designed for sport rather than style. I've been wearing All-Stars, on and off, since my mother bought me a pair of Chuck Taylor high-tops in high school. I flirted with Keds and Tretorns in my teens and twenties, but those relationships are squarely in the past. I love Supergas and think they look best with dresses and capris. But for knocking around in jeans or khakis, I think Converse All-Stars can't be topped.




Converse: Where can they go?

More like,
Where can't they go?

Every town has a museum, even if it's just a historical society displaying old clothes and stuffed birds.

I visit them all.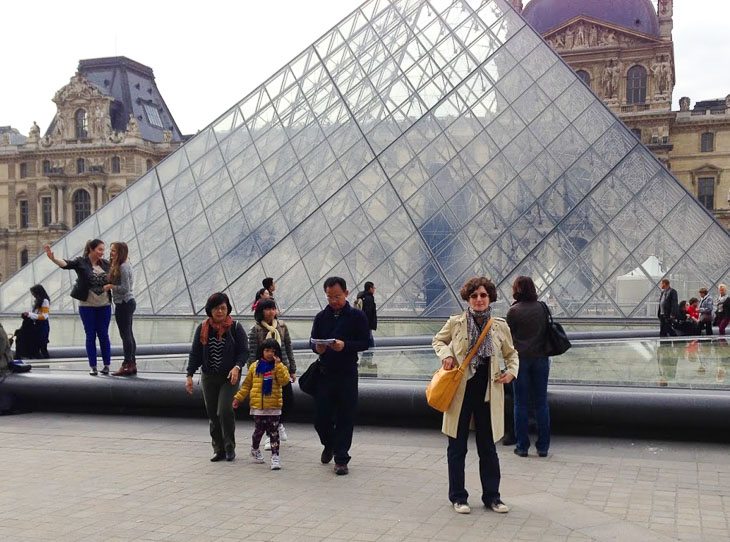 According to Ines de la Fressange (model, muse of Karl Lagerfeld, authority on chic), "Converse are a religion for the Parisian." I was very surprised to read this. But when I gave it a little more thought, it wasn't surprising at all. The All-Star is a design classic, so the quality valued by the French is there. Moreover, Converse is well-suited to play the foil — a hallmark of French style — when opposites (feminine/masculine, formal/casual, sophisticated/naive) are so charmingly combined in one outfit.
Here's some news. Converse announced at the end of July that it was re-tooling the All-Star. I know that some people resist change, but the described changes sounded like profound improvements to me: cushioning and arch support in the footbed and padding on the tongue. Even the most loyal Converse enthusiast must admit the sneakers required a little back-end hacking to make them comfortable for extended tunnel and hole exploration. In fact, the Converse that I've been wearing since 2011 (a couple of pairs in succession) came from a John Varvatos-Converse collaboration and already had these excellent features.
Don't freak out. Converse is still selling the original. All Converse needs to do now is replicate every decorative stitch and line of the original in the new model (it needs that black outlining) or put the comfort features in the original model and everything will be perfect. Or as the devoted may say as they light candles for Chuck Taylor in Parisian churches, parfait. Let it never be said that The Directrice doesn't embrace change! And double-negatives!
So, what shoes do you pack for walking around when you travel?
Nota bene: There is one easy hack that you can perform at home to make the II more like the original — replacing the black laces with white ones. This trick need not be limited to Converse. Different laces may improve (and certainly will change) the look of any laced shoe.