September! The gateway to my favorite time of year: Autumn.

September in Washington D.C. is a tricky time of year. It is often still summer-hot, but there is something a little odd about wearing really summery clothes. And so we have the challenge of dressing for a temperature, time, and mood that aren't squarely in sync.

We've been here before,
literally
.
I wear cotton and linen into the fall, but look for long (or longer) sleeves and pants. I also stop wearing sandals and most open-toe shoes.


Under my jacket, a summer top — just in case it's really hot when I go out for lunch.The darker color transitions well to fall.

I love this type of print. It's sort of like a bandana print, but maybe it's more accurate to call it a naive or figurative floral. Not sure. Perhaps the art history majors will weigh in.
A khaki jacket and jeans is a no fail combination. I would generally wear it with a white blouse, but red is one color that adds to the combination.
What am I saying! Pale pink also looks terrfic with this combination as seen
here
.
I might wear a navy blue top, too. Maybe.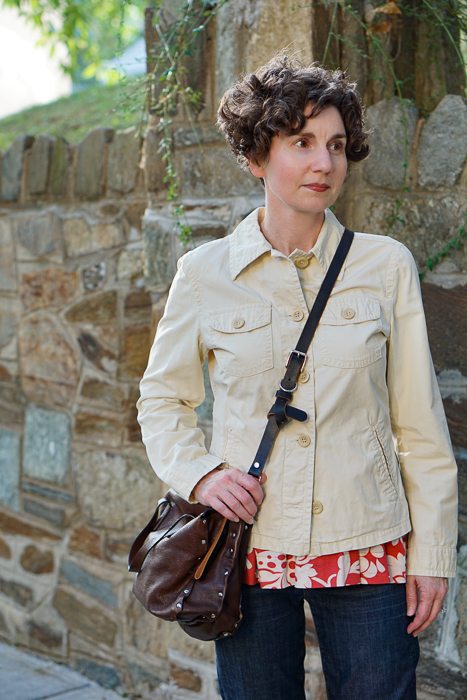 Just including a few photos to show how the jacket looks buttoned and unbuttoned. I like it equally well both ways; it looks slimmer when buttoned.



Part of the reason that I wear this jacket so often is that it is well-designed. Button tabs at the waist create shape. It's also a wonderful shade of khaki — very pale and buttery, which may mean that it isn't really khaki.


Finishing things off: a Marni bag that I bought in one of my rare forays on eBay.

I periodically
get an idea
about vintage jewelry or scarves and have purchased a few such items through eBay. Designer handbags seem like more of a risk to me; they're expensive and the counterfeit industry is so insidious. But I took a chance on this bag and it is a genuine article.
I am very curious if any of you have purchased high-end labels through Vestaire Collective or TheRealReal. They seem to be well-organized, consignment mediators. If you've had good experiences, please share them!
Jacket: Benetton; Blouse: Anthropologie; Jeans: JCrew; Bag: Marni; Shoes: Coach