You know that expression, "the heart wants what it wants" — which people use to justify everything from the purchase of faux fur ear muffs to yachts?

The Directrice is human and sometimes wants something against her better judgment. Something like this pocket:
Perhaps you need to step back for perspective:
It started with a fixation on the over-sized pockets, and grew to encompass the whole dress. You may justifiably be asking, "How exactly, Directrice, did you imagine wearing this in public?"



Like so!
I've been very candid about
my enthusiasm for aprons and pinafores
. This dress seemed, to me, to represent the best of those types.
Do understand, however, that this flight of fancy was indulged in an end-of-season sale . . . although the savings (a mitigating factor) were then re-directed, in part, toward alterations because the dress was a little long on me. I didn't want to disturb the placement of the pockets, so my tailor and I decided to take the excess length out of the middle of the dress and added a seam at the waist.



You may now be saying, "Directrice, please no. Do not jeopardize your professional standing by going to work dressed in that freak —


Too late! It's already been to work!

But only on days that I expected to spend at my desk, working solitarily.
Check out the details.

An open back and capacious pockets. Pockets with significant cargo area. Note in the view from behind that the pockets are sticking out on both sides of my hips. These pockets almost cannot be contained by the dress.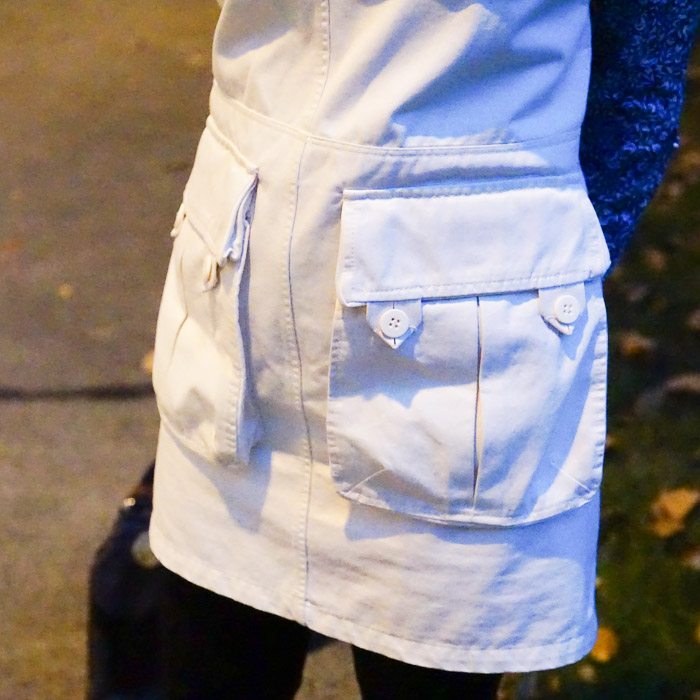 Things I could fit in these pockets, and would be so glad to have handy:
Dress: Marc by Marc Jacobs Classic Cotton Dress (sold out on Shopbop; try eBay!); Blouse: Anthropologie; Pants: JCrew Campbell trousers; Shoes: Tory Burch; Bag: Orla Kiely