Setting aside the title of this post for a minute — which we will get to — this is another edition of These Old Clothes.

Here are my trusty, mid-weight white cotton pants and a cotton blouse that combines gauze (bodice), voile (sleeves and peplum), and poplin (lining) in the softest, most refreshing shade of orange.
The shade of orange sherbert. Or is it sherbet?
When I looked up the spelling of sherbert, I discovered that the primary spelling is sherbet and that sherbert is a secondary spelling which depending on who you ask is legitimate or yet another sad acquiescence in our steady cultural descent toward the lowest common denominator. Tant pis!
I just assumed that sherbert was another New England curiosity — a regional pronunciation (the curiously placed and dropped Rs) or  part of the region's distinct ice cream lexicon (like jimmies and frappes).

Some people on the Internet are really fired up about this — when their efforts would clearly be better spent on achieving universal subject-verb agreement on the World Wide Web. Or preventing the spread of TextSpellingGrammar. Harumph!
But tell me, Dear Readers, where were you raised and what do you call it?

Back to the easy living of summertime.
This blouse doesn't need a belt, but I've added one for additional definition. A thin line of black against the orange does not read Halloween.
The blouse isn't tight, but for some reason the placket will not lay flat at my waist. This is a micro-job for Fatima — adding an invisible snap right there.
I am not certain that this adjustment will be made in 2019.
I have more urgent tasks to complete between now and Labor Day, like retrieving my sandals from storage and training Philo to behave more like a Ragdoll.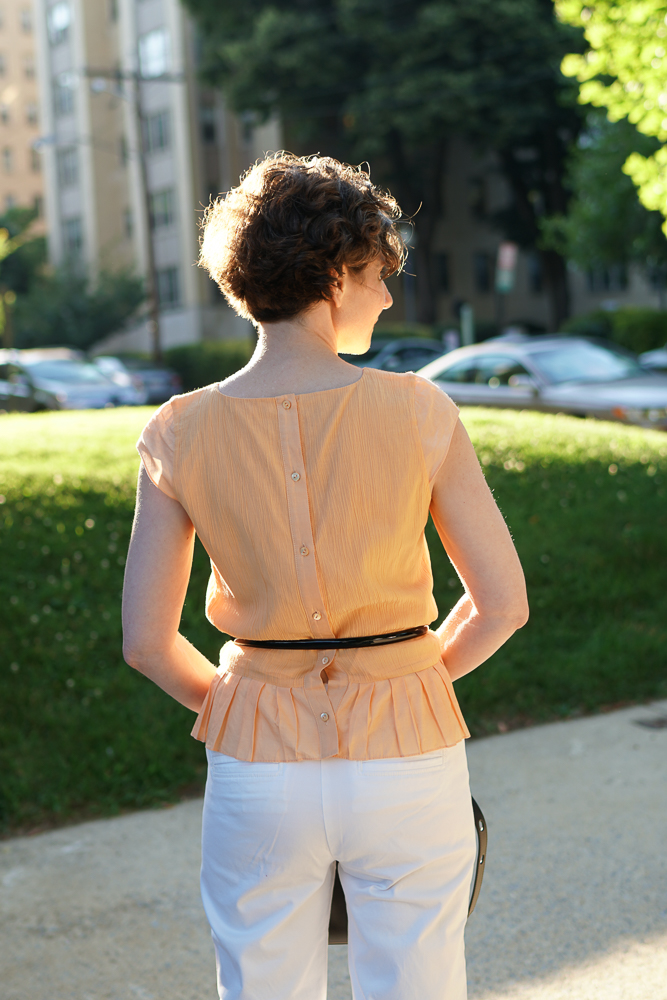 Blouse: Moncollet; Pants and belt: JCrew; Sandals: Skechers; Bag: Sophie Hulme