I don't think of black as funereal or grim.

There are days when unrelieved black is a cozy blanket to wrap oneself in. Combining black pieces of different fabrics and textures — remember, variations in the shade of black don't matter when you do this — makes for easy outfit construction.





Here, I put on four black garments — et voila! — found myself wearing an outfit of some depth.




As you can probably guess from the background and my shoes, these photos were taken in October — but I didn't have a chance to post them before going on vacation.

Now the loafer mules are put away.


So what exactly do we have here?

From the inside out:
a black blouse in cotton gauze;
a pintucked black silk camisole;
black wool capris;
and a "four-season stretch" blazer from JCrew, new this fall.

"Four Season" may be a euphemism for "highly unnatural." This jacket is made of a heavy polyester crepe/viscose/elastane blend, which I don't think could actually be worn in the late spring or summer.

I do, however, think I could spill a soda all over this jacket with impunity.




I bought this blazer a little big so that I could wear it over a sweater on the weekend (casual wear) as well as during the week. It's nicely shaped and the pleats in back add a little extra interest.


After years of wearing three and four button jackets, I have decided that I like the look of a single button jacket — under certain circumstances. Here, the single button (along with certain darts and seams) provides definition for my waist and allows the many layers under the jacket to show.


Rounding things out, my lidded bag. I look like a postman and a witch.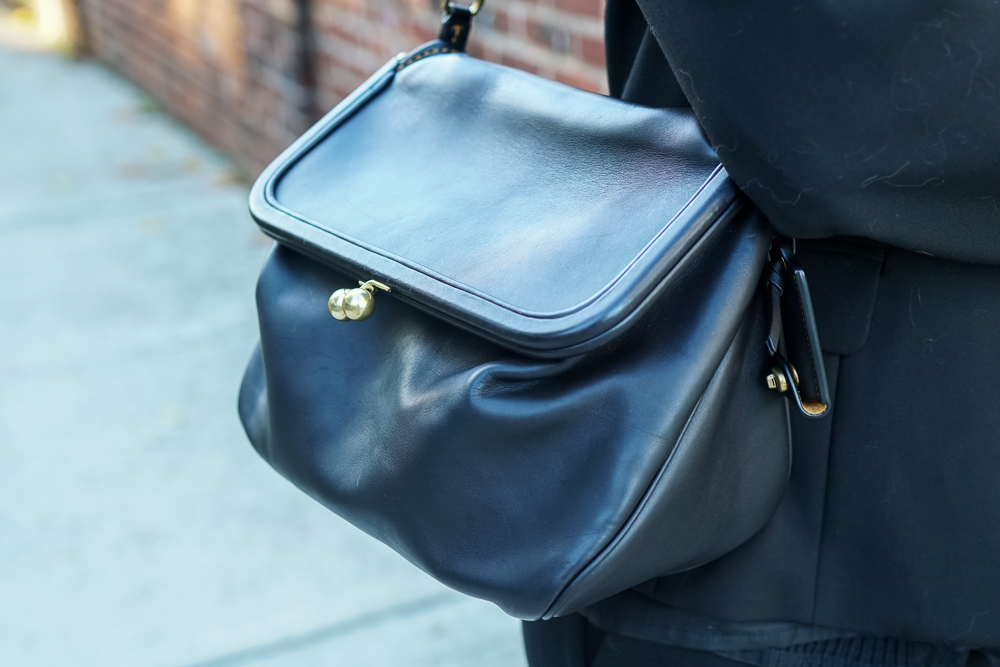 Blazer: JCrew
Mayfair Blazer
in Four-season Stretch; Blouse: Vanessa Bruno: Camisole: JCrew; Pants: JCrew Campbell Capris; Shoes: Rebecca Minkoff; Bag: Coach
Rider Bag
(on sale); Neckace: David Yurman