My favorite part of Fantasia is The Dance of the Hours, when the alligators partner hippos. The segment begins with ostrichs — who, with their slender legs and feathered bodies, really do resemble dancers wearing tutus.



As a former dancer, how could I resist the opportunity to reinterpret that look?
I wear fleece jackets (with my
James Webb Telescope skirt
) on the weekend, but until I saw this Marissa Webb vest, I did not think such active-wear would do for the weekday.
But this smart vest, with black wool capris and a sweater, seems perfect for a quiet winter day at the office.
Here, I am wearing it with a black striped sweater that I generally wear around the house in the evenings because it is a very cozy cashmere.
This vest is made of a wool flannel upper and an imitation shearling band around the midsection. I fully admit that it is not slenderizing. Indeed, some would rightly say that this vest packs on bulk just where it should not. But I think it's weirdly flattering, benignly eccentric, and utterly charming.
Here, I am wearing it with an old stretch merino turtlneck sweater — 1/2 of a twin set intended for wear with
this cardigan
.
Let's take a closer look, shall we?


Ooohhhh.

Feel the plushy faux shearling.
The Photographer named this set of photos "Pregger-Polar."

It's a fair cop. Remember, it's no bad thing to show up for work occasionally looking suddenly and very pregnant. And then showing up the next day looking svelte. You'll provide mental stimulation for your co-workers. Plus, you'll cause them to think about how much they would miss you if you were absent on maternity leave.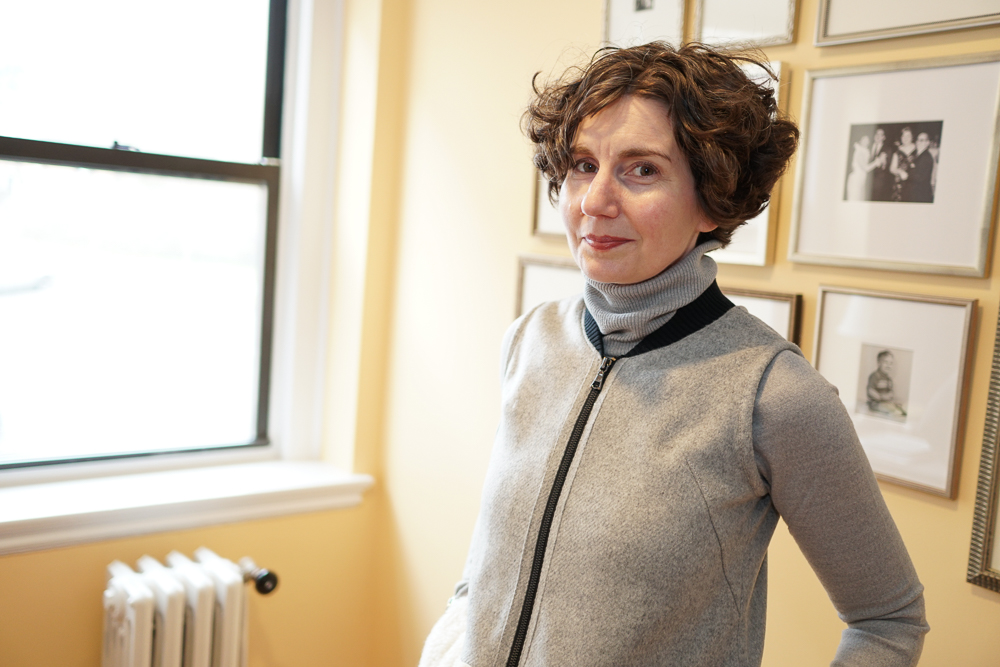 Note: The Directrice (the website, not me) was down for part of the day last Thursday, so if you missed
my post
, don't forget to read it now.
Vest: Marissa Web; Black sweater: Garnet Hill; Grey sweater: JCrew; Pants: JCrew; Shoes: Coach; Bag: Sophie Hulme Bolt Bag
* I crack myself up.