We are deep into summer in Washington D.C., but it hasn't been terribly hot.  Nevertheless, all of the staff at Directrice Global Industries Ltd. and DGI Holding, Inc. are ready for summer.
This weirdy green will feel fresh on a hot day, right?
This fluorescent skirt reminds of Freeze Pops. Do you remember those unnaturally colored frozen ice treats?
The skirt also looks like anti-freeze, which makes me realize that Freeze Pops looked like anti-freeze.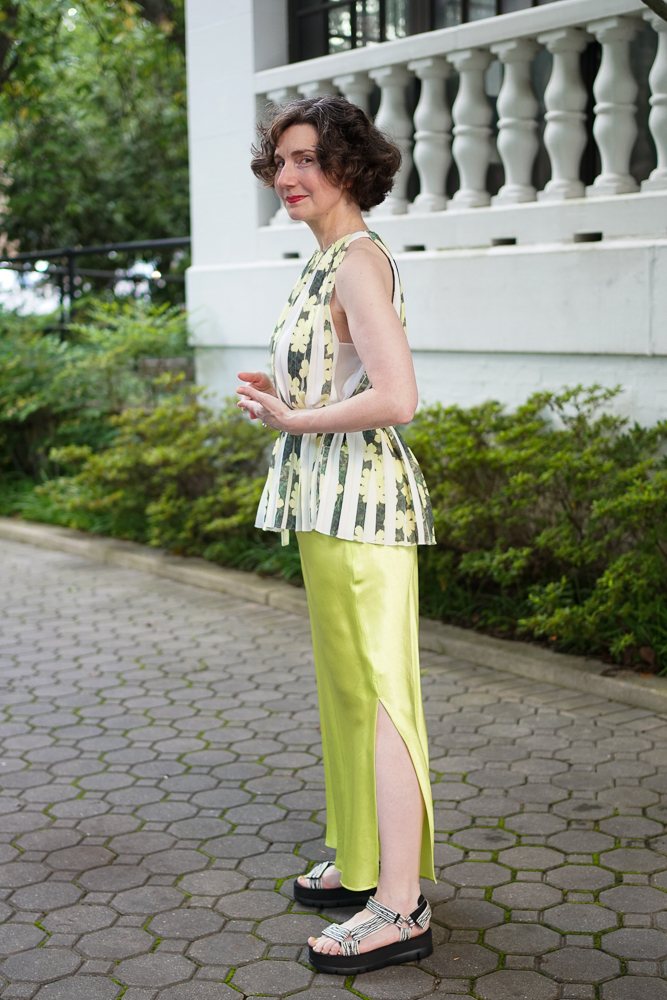 I bought this top in 2020 and haven't been certain about what to wear it with and where to wear it. The print is actually a photo — a field of flowers — that was transferred onto a knife pleated fabric.  The image has a dreamlike quality and the pleats create vertical lines of negative space; the overall effect is very interesting.
This top looks good with a denim skirt and with white pants, but when I saw the limesicle skirt, inspiration struck.
As to where it should be worn . . . The shoulders are very bare.  A simple guideline for office wear is: If you need to wear a strapless bra, you might want to re-think your outfit. 
Here's an alternative that does not require specialty undergarments: a crisp, white sleeveless blouse.
This one has a pretty shape — pleated tuxedo bib, a waist tie, and a peplum. The silhouette works very well with a column skirt.
How long do you think I can keep this blouse looking crisp?
I don't think it's going to make old bones. But that is the nature of white blouses!
The white blouse is covered up enough. For summer in Washington D.C. Post-pandemic.
The ties on this blouse are long enough to wrap and tie in the front or the back. I think I prefer the bow in the front.
Finally, my sandals.
Even I can see that this particular pair of sporty sandals is not suitable for work under most — really, any — circumstances.  But it's hard to predict what transgressions may or may not occur during my final weeks at the firm. I am aiming to leave impressions that will last, if not forever, at least as long as permitted under the Rule Against Perpetuities.
Sandals: Camper Oruga Platform Sandals; Skirt: Vince; Green top: 3.1 Phillip Lim SS2020; White top: Marissa Webb Cooper Tuxedo Bib Trapeze Sateen Wrap Top on sale