Greetings, Directorate! I hope you can excuse my silence, but I've been very busy with a major life transition.
No, not menopause — though that is loitering in the background. This is work news. I am leaving my unnamed firm to join a non-profit organization that I shall also not name!
We'll discuss this life development further, but first let's attend to the business of this blog.

You may remember that earlier this year I confessed to a rapturous spree of art jewelry acquisition that took place in December 2022/January 2023?
I've been wearing and enjoying the spoils, but slow to blog about them.
Behold this asymmetrical glass bubble necklace from Karen Gilbert! It's just the thing to finish a simple summer outfit of white top, tan pants, and black sandals.

A crisp white top is always a good choice. This one has several special features: black top-stitching to define its lines; a kick-pleated peplum with oversized ties defining the waist, and; a giant ornamental button that can stand in for a piece of jewelry on days when one doesn't want to bother.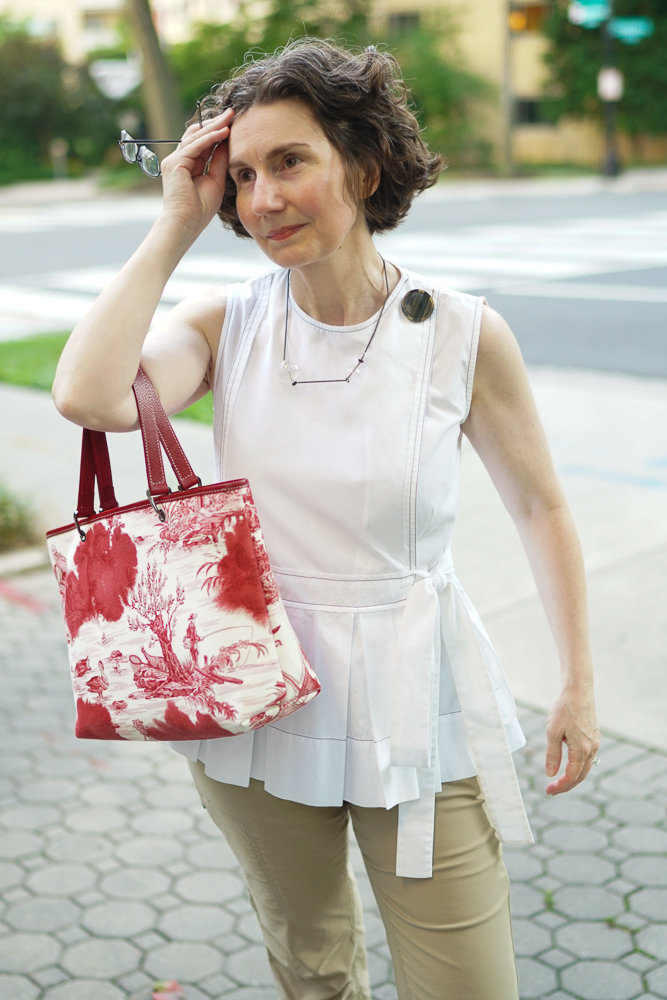 If all the designers consulted me before putting their plans into mass production, I would have offered some advice about this button. It's a little heavy for the fabric and causes the hook-and-eyes that hold the shoulder of this top closed to come undone. I am going to ask the neighborhood tailor (at the drycleaner) to replace the hook-and-eyes with snaps.+
Come closer and adore the necklace.
This oxydized sterling silver and glass necklace has a look that is both industrial and ethereal. The glass orbs look like soap bubbles that have been caught on a line and the articulated links, varying in length, allow the necklace to arrange itself in different postures. The overall effect is very subtle, but striking for those who notice.
Take a good look. Linger as long as you like.
And now, a dress that may be
too sophisticated to capture on film
. Brace yourself, Directorate.
I decided last year that my new summer work look would be "cotton poplin solid color dresses of directional and vaguely European cut." Nothing too fitted or traditional. Some of you might remember this proclamation in weirdy green. Or a much earlier effort in melon pink.
The Photographer and I agreed that this photo (best of the bunch) doesn't do the dress justice. Perhaps the dress needs to be starched? Maybe I need to have Fatima tighten the bodice? Or maybe the dress is simply conceptual and must be enjoyed as such rather than forced to flatter the wearer.* Regardless, I love it.

I bought the dress at a Proenza Schouler end-of-season sale. It featured three rows of elasticized gathering — below the bust, at the waist, and at the hip — but I removed the elastic at the waist and hip and then had Fatima narrow the skirt a little. Too much gathering, too much fabric. The back is also vented at the waist. For work, I wore an orange camisole underneath it, showing just a hint of color when I am in motion.
Setting aside questions of fit and flattery, for our purposes today, the dress is a great backdrop for this tremendous necklace by Lynn Latta.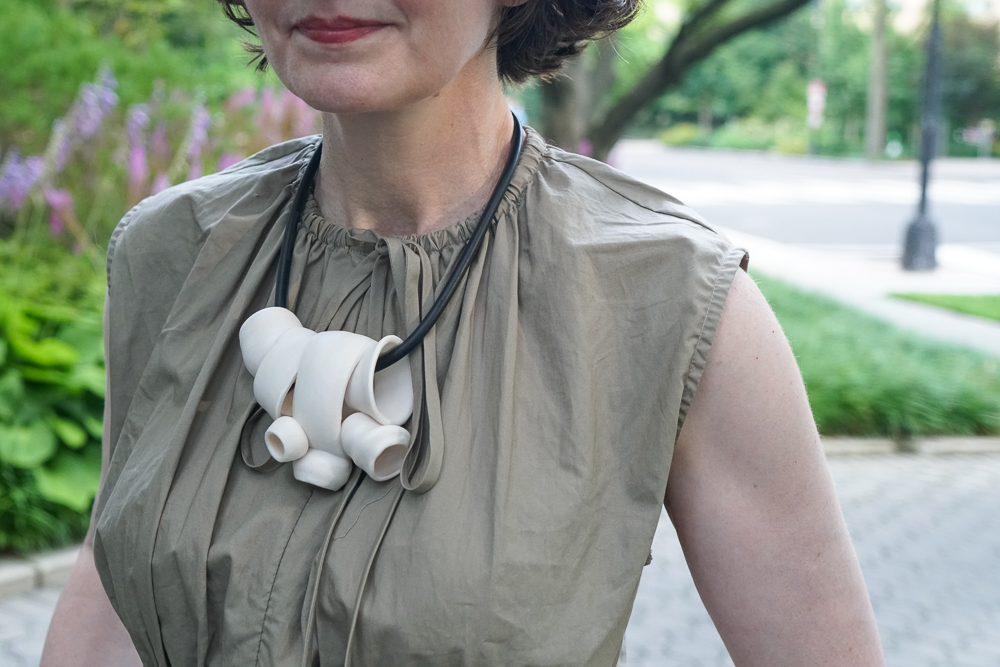 I've shown and discussed Lynn Latta's work previously (also, see above — Miss Norcross-Stokes is a fan) and reached out to Jenna Shaifer at Ombre Gallery about creating a special piece. With some vague input from me, Lynn created this beautiful pendant.

The end result of my forays into the world of art jewelry is not simply that I now possess many interesting and beautiful pieces to play with and wear, but that I have met wonderful gallerists like Jenna and many artists of extraordinary vision and skill.
Their passion — in creating beautiful works and forming an accessible community for the decorative arts — is a gift to all of us.

Back to my career. I've been at my firm 23 years and over that time have always had new challenges and responsibilities. But I realized during the pandemic that I would like to do something not simply new, but different, and that I wanted to do it sooner rather than later. So I am wrapping things up in July, heading to Ecuador and the Galapagos Islands in August, taking off September and October, and then beginning my new job later this year. I'll still be litigating but applying those skills to a broader range of social issues.  I am incredibly excited about the organization I am joining and the work that's ahead.
It was easy to make the decision to leave, harder to execute.  Anyone seeking help with her resume or guidance in envisioning a career shift, send me an email (c/o harper@thedirectrice.com) and I am happy to share resources.  To my surprise, once my plans were set, it felt hard to announce them. All of my previous jobs had had defined terms (fellowship) or obvious end-dates (summer, graduation), so I had to script and practice my leave-taking.  Special thanks to Pere-Directrice (for his excellent advice), The Photographer (for role-playing departure conversations), and my firm colleagues (for receiving my unexpected news so graciously and showing so much enthusiasm for my next act).
You may be wondering how The Directrice fits into my future plans.  We shall march forward together, tackling work attire in the staid professions and at NGOs!
White top: Marni; Pants: Prana Halle II; Dress: Proenza Schouler (from SS 2022, may pop up on The RealReal); Shoes: JCrew Fisherman Lug Sole Sandal; Glass necklace: Karen Gilbert purchased at Jewelers' Werk Galerie; Ceramic necklace: Lynn Latta from Ombre Gallery
+ Hooks-to-snaps is too simple to call upon Fatima.
* I once saw a photo of a brooch in a book and tracked down the artist in Israel (the internet is so powerful). I was utterly nonplussed when she advised me that the brooch was purely conceptual and likely to fall apart if worn.