During the cold weather months, I rely heavily on black and charcoal grey pants, which I wear with a variety of jackets and sweaters. In the summer, black and charcoal can look heavy, so I switch to taupe. Taupe — a word that sounds so awful — is actually a beautiful, complex color: an ingenious blend of grey and brown which, in the warmer months, looks fresh and cool with ivory.



See what I mean?


I found this jacket at a Neiman Marcus consolidation sale a number of years ago. It has a large portrait collar and some trench coat detailing (the epaulettes and cinched cuffs). The short length is great for someone small like me and I wear it with pants (like this), over shift-style dresses, and with a long black linen skirt.
But let's dig down, because the jacket is only worn for warmth (in air-conditioning) and for meetings; the best part of this outfit is the blouse I am wearing underneath.
This blouse is made of a sheer, crinkly silk — a fabric that is both crisp (a little crisp) and malleable. The waist is gently cinched with covered elastic; the effect is gentle blousing, which is very feminine.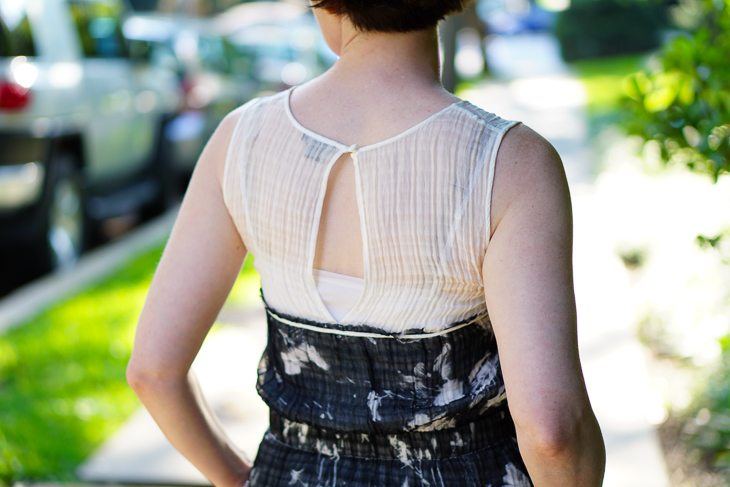 I am not sure how well the details on this print can be seen in these photos — and I realize I am saying this as though I have no agency here — but the pattern is actually a black and white botanical photograph, scaled (i.e., blown-up) until it looks abstract. The blouse reminds me of the work of Rinne Allen, an Athens, GA-based photographer who specializes in food, textile, and garden photography.




And the details — a couple of pearl and silver bracelets, a watch (with a black alligator watchband) and a yellow bag for a pop of color.
All together now!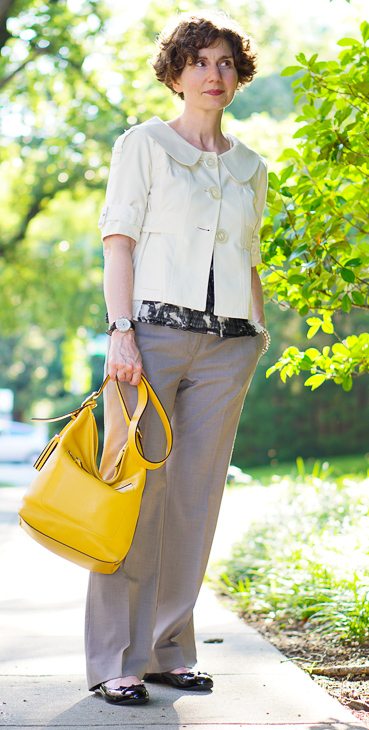 For future reference: taupe's darker shades look beautiful in the fall and winter with many shades of green, blue, pink, and lavender.
Jacket: Cynthia Steffe; Blouse: Theory; Pants: JCrew; Shoes: French Sole New York; Bracelets: John Hardy; Watch: Michele CSX; Bag: Coach Legacy Duffle in Sunflower