Because I periodically go to court, I have two fancy suits.

You've seen them
here
and
here
.
To re-fresh your memory, I am showing you one now.
I had a couple of significant hearings this summer — in different courts — and decided that
this
would be The Suit of The Directrice's Judicial Circuit (Summer 2019).



I tried the suit on before packing it — you always should before packing something you haven't worn for a while* — and thought it lacked pizzazz.



So I tossed a little something extra in my bag. A weapon that TSA would never detect.



How smart is this look?

So smart.

What's the lesson here?

Take care of your good clothes.

What's the other lesson?

Always be willing to consider something new. A very small change can make something old entirely new.

What's the other, other lesson?

Be like Michelle Obama.

With regard to belts over jackets, you are going to see this look
everywhere
this fall. Apparently it was big in the SS2019 fashion shows. Please remember that you saw it here first.+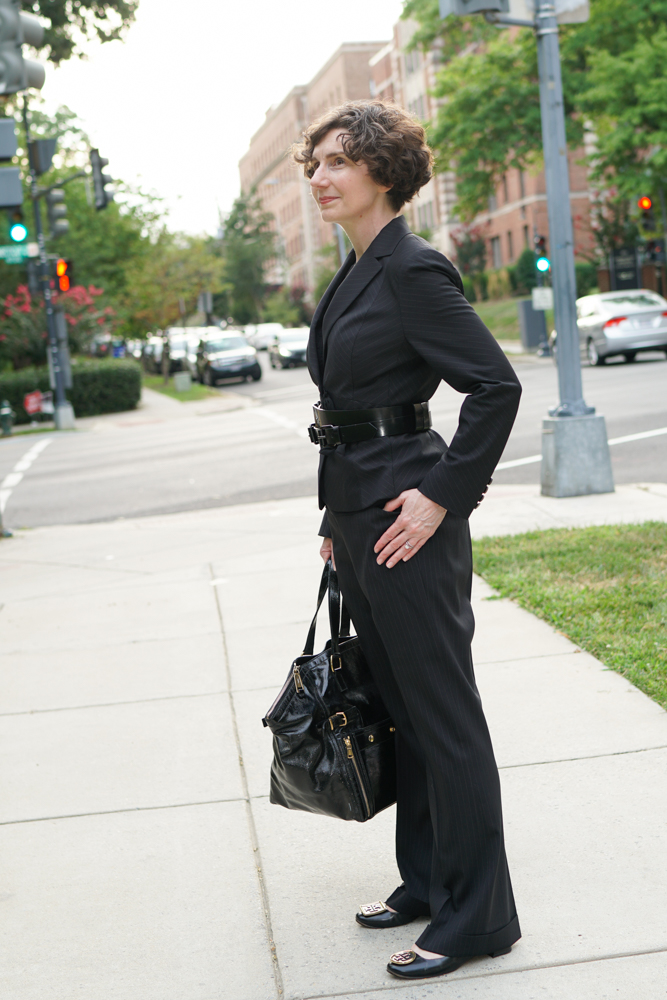 Are you wondering about the title of this post?

This is Post No. 500. I am astonished to find that I have published 500 posts. On the one hand, it seems like an awful lot of content to have generated with only 2-3 posts a week. (Remember, in the beginning I posted M/W/F.) On the other hand, I've been doing this for five years.**

Five Hundred seems like a moment to ask, Is this crazy? Why am I doing this?




I started the blog, in part, just to see if I could actually create a blog and get anyone to read it. (I also believed, briefly, that it was an interesting topic for conversation, but I soon realized that it was no more interesting — to a listener — than hearing someone talk about his exercise routine.) Upon achieving a rudimentary knowledge of WordPress and a small number of encouraging readers, the blog become a bit of a compulsion. So now I write these posts because . . . I can't seem to stop.

I routinely think the well's run dry, but once I come up with a few ideas, I appreciate the challenge of doing so. And I find it very soothing to write these posts. And then I am ever so gratified to read your comments. I'm a terrible glutton for comments. I always want more, so do your part and feed the beast.


Did you know that the kick-@SS belt has a partner? The Downtown Tote! My splurgey YSL purchase from 2007, which has been many places and (I believe) opened many doors.

They met in my closet.
FIVE HUNDRED!
APPLAUSE!
CONFETTI!
CAKE!
Don't forget to look at
Thursday's post
, which went up late.
Suit: Elie Tahari; Blouse: Tory Burch; Shoes: Tory Burch; Belt: Philosophy di Alberta Ferretti; Bag: YSL Downtown Tote
* Always, always try things on before you put them in your suitcase if you haven't worn them in the last month or two. It would be very disappointing to discover at your destination that something doesn't fit or is torn or stained.
+ You also saw Dress Over Pants and Bustier As Work-Wear here first. And you will simply have to take me at my word when I tell you that I invented the maxi skirt and maxi dress in, like, 1999.
** Those doing the math (52 weeks x 2 posts per week x 5.5 years) may be feeling a little ripped off. I do the best that I can.