I brought my too-snug Marni denim dress to Fatima for a consult.

I had noticed very generous seam allowances when inspecting it at home. Fatima — who is apparently a forensic seamstress in addition to her talents — told me that it had been taken in.

Somehow this revelation made me feel better, but I recognize that my reaction was not logical. A dress that does not fit is a dress that does not fit. It doesn't really matter why.

Fatima was also visibly shocked (and possibly appalled) at how tight the dress was.

She's going to make it right.




This post, however, is about something different. In order to see how the dress was intended to fit, I searched the Internet for some original photos.

I found this great image. The dress looks beautiful on the model and look at how charmingly (possibly excessively) Marni styled the dress: earrings, a scarf, a brooch, a bracelet, and a belt.

Here is my watered-down interpretation of Marni's fully-loaded presentation.
Note: I am wearing a different denim dress. I bought this one at Ann Taylor in 2002 or 2003. It was the pattern for
this dress
.



I didn't quite hit the Marni pitch in terms of density or intensity — but I have a scarf, a necklace, and a belt. Not bad for a Washington D.C. law firm.

Note: The watch does not count.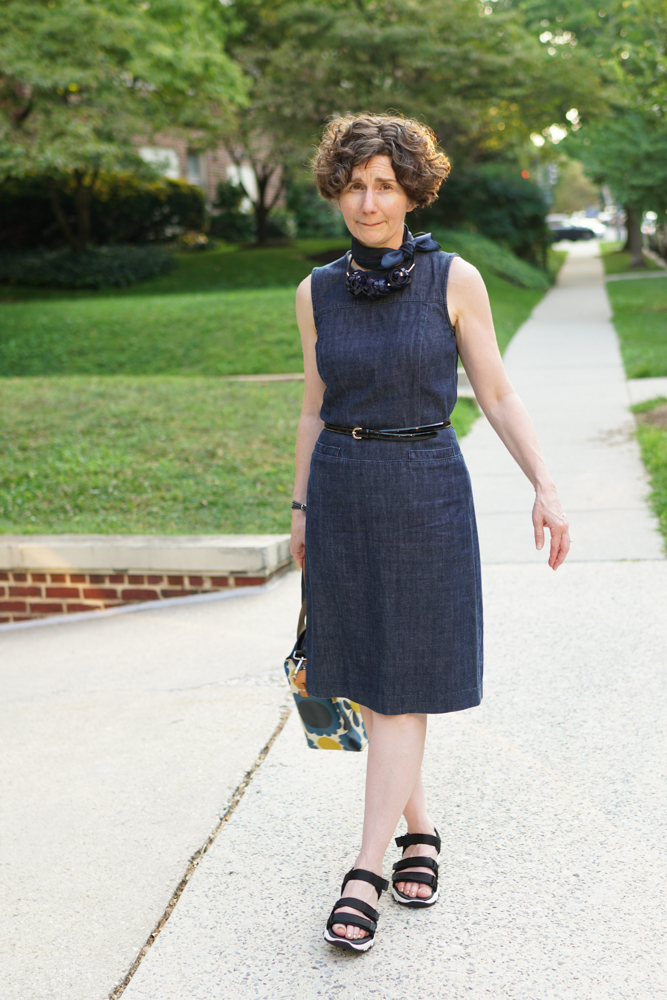 Here, I've take a moment to touch my unadorned ears.

I don't have pierced ears.



Come closer and take a look at my scarf and necklace.

The scarf is a vintage Liberty square that my mother gave to me. It's a lovely inky blue with a black design.

The necklace is Marni (from The RealReal): three patent leather knots in a blue that falls somewhere between royal and navy. It has such great presence.


Come closer and take a gander at my excess.

To offset the visual complexity of a scarf and a complicated necklace, I thought it best to go with a monochromatic scheme.
Have a fantastic weekend!
Dress: Ann Taylor; Scarf: Liberty; Necklace: Marni; Watch: Shinola; Bag: Orla Kiely; Sandals: Skechers*
* I must fetch my summer shoes from the storage room. It is ridiculous (but kind of awesome) that I've been wearing these Skechers to work since Memorial Day. They are NSFW.