Continuing our Professional Education Series (CME credit for the doctors, CLE credit for the lawyers) on Sweaters of Substance — i.e., sweaters of sufficient weight and distinction that they can stand in for a jacket — I give you: The Dark Angel.




For anyone who has not looked at the Internet in the last 18 months: big sleeves are in, and they've been getting bigger and bigger.

When I purchased this sweater last year (January 2019), I thought the shoulders were comical — charmingly, but absurdly, so — not imagining what would be coming. These ruffles barely register when compared to the looks from New York Fashion Week 2020.




I liked the sweater, but couldn't figure out where/how to wear it in 2019. It's boxy and short, ending just above my hipbones.

It wasn't until 2020 that I asked myself the right question and then saw what needed to be done.

Say it with me: What Would Michelle Obama Do?


This sweater needed a belt to give it a little shape. But it needed a special, simple belt because . . . the ruffles, cables, and gold buttons are already a circus of visual activity.

The sweater needed something calm.
Ta-da! A minimalist cross between an Obi belt and a corset belt.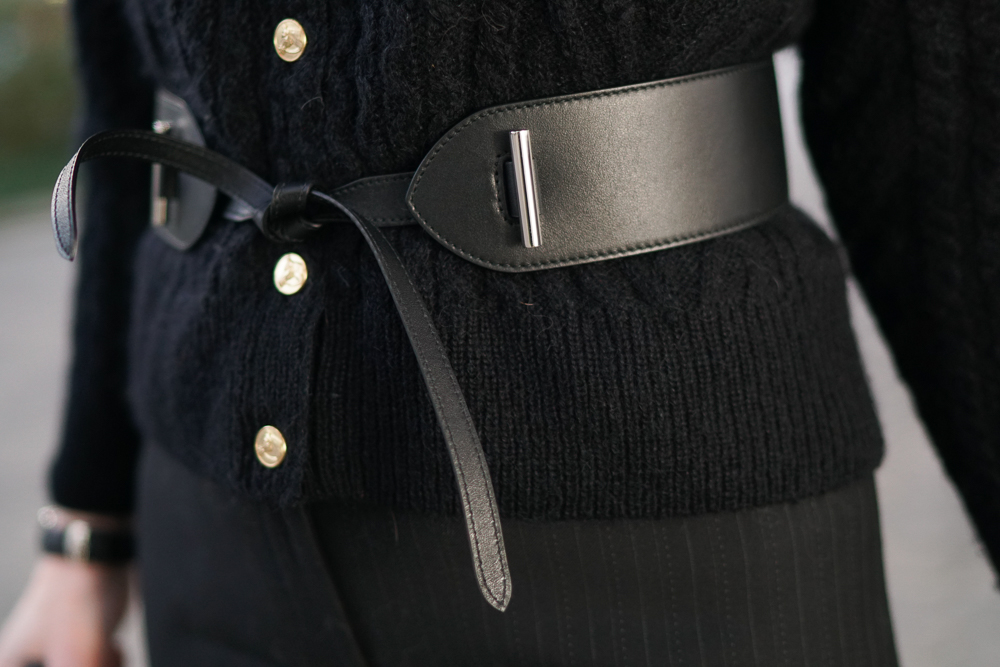 You can see that the original Kick-A$$ belt, with its silver-tone buckles and hinges would have been too much. A narrow belt would have gotten lost. This Jil Sander belt is just the thing.

Why?

Let's break it down. This belt is fabricated from a smooth, matte calfskin: no texture, no shine. It's a nice, wide belt, except for the ties holding it closed — which is an ingenious choice. Instead of creating a horizontal band that would shorten my torso and make me look squat, the belt is creating a cinched waist. Indeed, my waist looks more cinched than it is.


Thus accompanied, I am now getting so much enjoyment out of the sweater.

Please, come right up and run your fingers through these ruffles. They are delightful.
One final note: Do you see my super-long hair? I let it grow for 11 weeks and asked my stylist to shape it up in January. While I am not willing to bow to current trends (unless they are flattering!), I do want to look like a person who has a purposeful haircut (as opposed to
a person with hair
), so I asked him, "Is this a style? What would you call it?" He said, without missing a beat, "It's a round, layered bob."
Sweater: Claire V x Demy Lee
Nora Cardigan
(still available, though I got mine on sale from Shopbop last year); Pants: Ann Taylor; Belt: Jil Sander from YOOX; Shoes: Taryn Rose; Bag: Humawaca
* Also take note of my pinstriped pants. You can only see the stripes in this close-up photo, but the pattern creates a little relief from all black.