Thanksgiving week! If you don't have to travel for work or file a big brief before (or immediately after) Thanksgiving, Thanksgiving week is a great week at the office.


Every day is Casual Friday because . . . there's no one there to see.

To see things like this:


At this point you may think you know all my tricks, but I still have a few things up my sleeve for 2016.

This outfit does, however, bear a few hallmarks that you've seen before: tone-on-tone; short sweater over longer blouse; a collared blouse; assertive shoes.

This blouse is so sweet, with slightly puffed sleeves and a very small Peter Pan collar. The fabric — black cotton gauze — keeps it from looking schoolgirl.

Black blouses
are very useful. I recommend fluid or soft fabrics like silk and cotton gauze.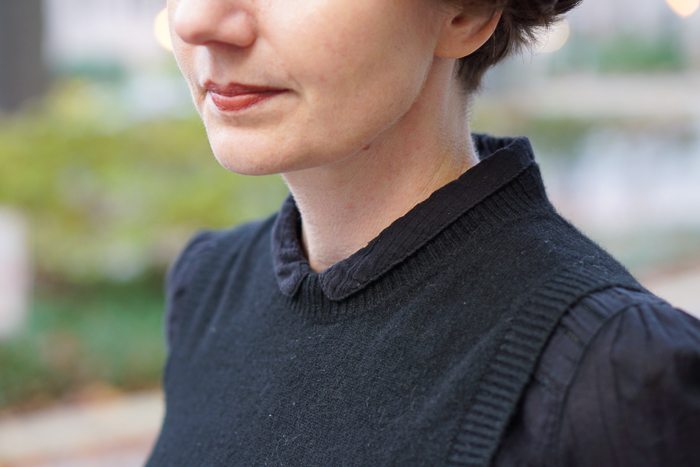 I am wearing a cashmere shell as a sweater vest, but you could create this same silhouette with a cropped top instead. Remember: we've talked about this
before
.

Although I have a pair of penny loafers that I like very much, I saw these on sale and thought it would be prudent to buy them to hedge against certain foreseeable future events, like the demise of my current penny loafers. Picture a bomb shelter filled with black flats and penny loafers.