I have written previously about the many virtues of large scarves (in what I believe to be one of my funniest posts), but I am equally enthusiastic about small scarves measuring 18-24″ square.

We can all agree that a scarf — the right scarf — adds a certain chic to the day. Why is this exactly? As we like to do on The Directrice, let's break it down.

First, and most simply, a scarf adds an elegant texture — supple silk — to an outfit. Second, a patterned scarf brings graphic complexity. Third, a scarf creates movement — a certain dynamism — in your outfit because it is literally moving around during the day. Fourth, a scarf adds a gesture; there is something very elegant about tying or untying a scarf. Finalmont, a silk scarf wrapped around one's neck adds a little warmth and protection from scratchy wool in colder months.

Here is what a little scarf can do for you:



Create the look of a collared blouse, without the bulk of a blouse. I have a few white and black-and-white-patterned scarves for this purpose.


Add a jot of color to an otherwise dark or monochromatic ensemble.


Add a vintage or whimsical touch to a directional look.




Actualize a maximalist impulse to layer pattern upon pattern.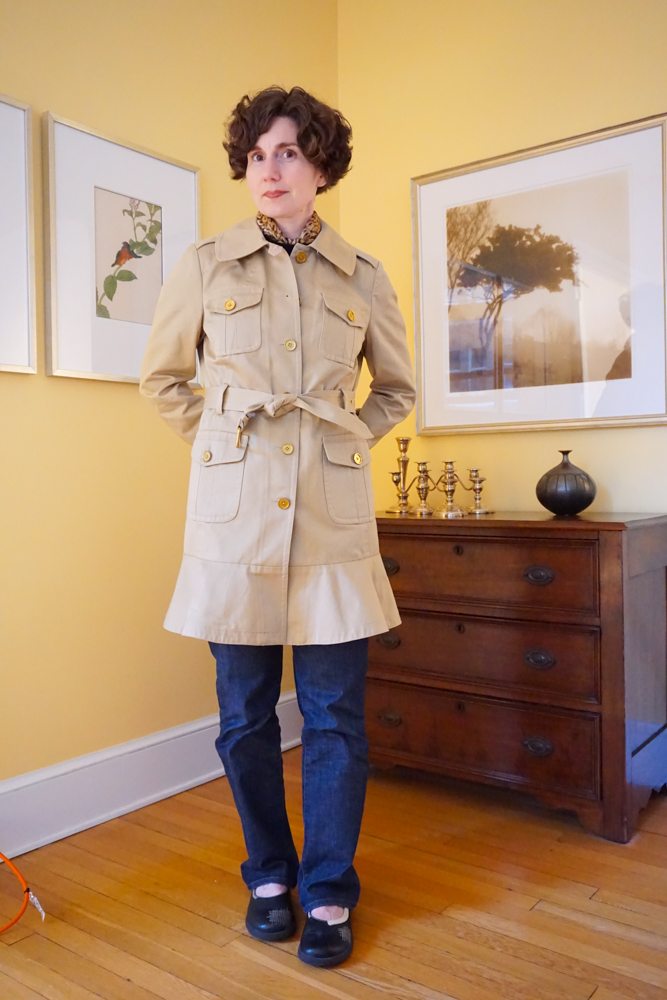 Add polish to outerwear; a coordinating scarf tucked inside your jacket or coat collar is always an elegant touch.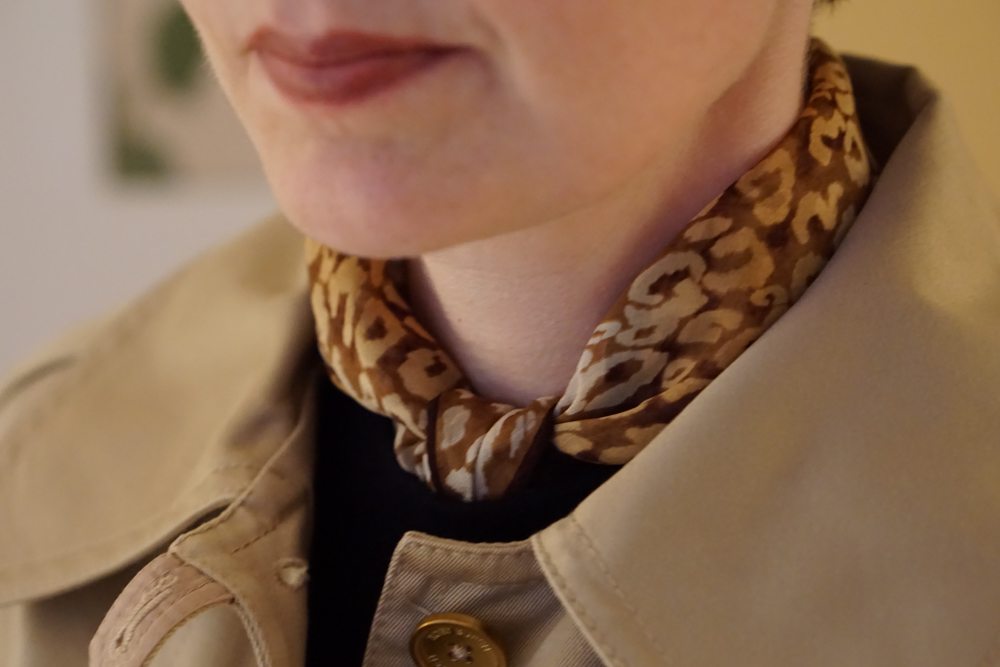 While large scarves can be tied in numerous ways — Hermes published a printed guide to the tying of scarves back in the 80s (check eBay) and now has an app! — smaller scarves can only be wrapped a few ways because,
um
, there's only so much material to work with. I generally fold mine in half on the diagonal, tie the ends in a fat square knot and tuck the whole thing into the neckline of my sweater or top. Sometimes, when I don't want the bulk of a knot, I will fold the scarf to create an oblong length (4 inches wide) and then simply cross one end over the other and tuck the whole thing into my neckline. If the scarf is closer to a 30″ square, I will tie a square knot in front and then tie the loose ends in a second knot at the back of my neck. Can you visualize this, or do I need to add video? DirectriceTV . . . think of the possibilities.
Have a fantastic weekend!
P.S. Did you think I had deserted you? I've been in an unusually busy period at work and had technical difficulties with the site this week. The technical difficulties continue, so postings may be irregular next week. We'll see!