You know someone well when you can predict exactly how she will react to something.



When my husband saw this jacket he said, "Your mother is going to be very upset when she sees that jacket."

I responded, "That's exactly what I thought when I saw it!"

Ahhh, like mother, like daughter. And The Photographer has our number.

Without further ado, I give you: The OSHA Violator.


Perhaps the clear and present danger is not apparent to you?

Allow me to explain.



If I worked in a kitchen, or on a farm or in a print shop, I would not wear this jacket to work.

But I work in an office, at a desk. The biggest risk I face in these sleeves is getting them wet in the ladies' room sink.

As I consider this, I realize that it might be best to remove the jacket before going to the ladies' room.

As I consider that, I wonder what kind of person buys a jacket that has to be removed before washing one's hands.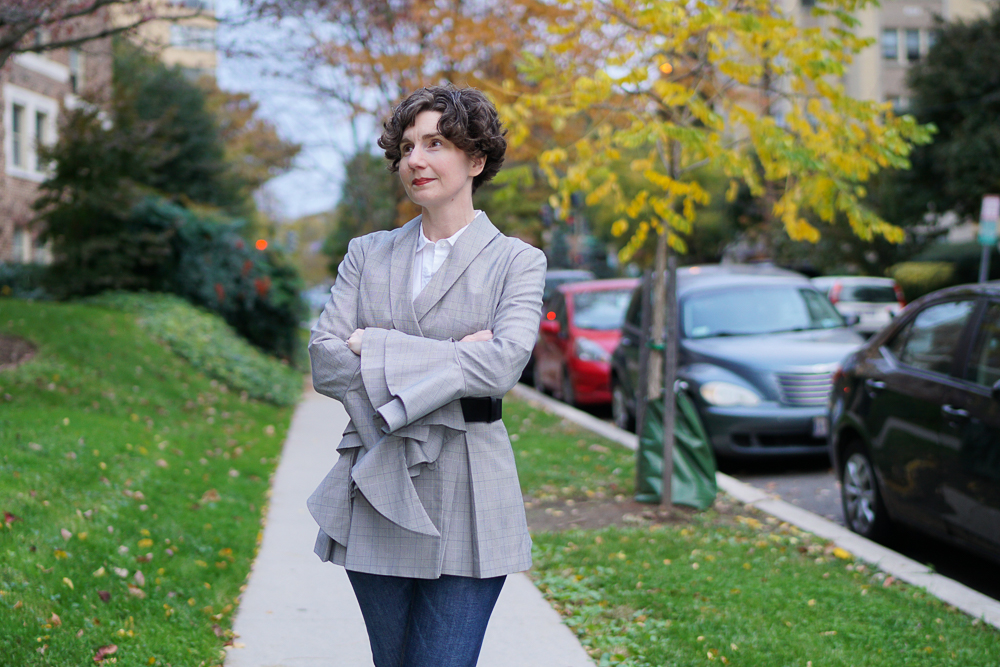 For those who are trying to understand these cuffs, come closer.


I think this is a scimitar.
Another benefit of female colleagues: They tell you when they see things you might like!
One of my colleagues traveled to Raleigh, North Carolina for work and happened upon a store called
The Art of Style
. She saw this jacket and wasted no time alerting me. Two days later, it was mine.
This jacket is actually part of a suit, but I think that a suit along these lines would be too much of a muchness. So I did not buy the pants. I think this jacket is perfect for Casual Friday or a weekend trip to a museum.
In case you are wondering, I added the belt m'self.
Mother: Don't worry. I will stay away from: open flames, fans, conveyor belts, automatic doors, propeller engines, manglers, and heavy machinery generally. I love you!

Everyone: Have a fantastic weekend!

Jacket: C/meo Collective We Woke Up Blazer; Shirt; JCrew; Jeans: JCrew; Belt: Mauro Griffoni from YOOX; Shoes: Rebecca Minkoff