Shortly after I showed you photos of my beloved red sandals, the footbed separated from the platform. I told you they were old.



I will take the fiesta sandals to Expert Shoe & Luggage Repair, but I have doubts about how much longer their life can be prolonged. The staff at Expert Shoe are experts, but also realists, and possibly fatalists. Because they are not emotionally attached to the shoes placed upon their counter, they also have no difficulty delivering hard truths.

So sad news, indeed, but this is an important lesson in succession planning for all of us.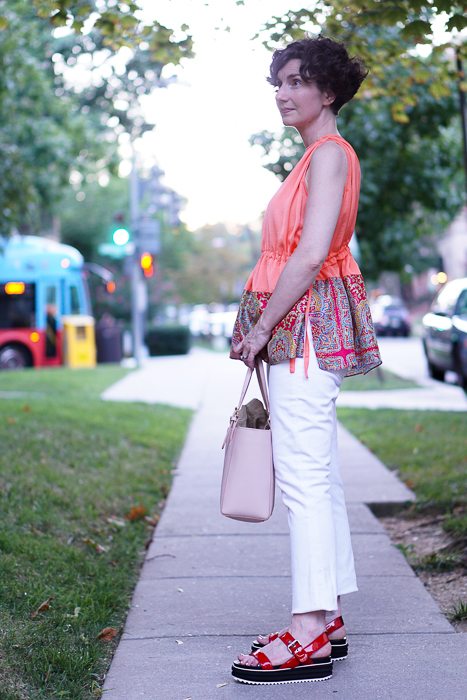 I am prepared for the worst with a new pair of red sandals, which hopefully will also last a dozen years.

The white sole and trim don't just underscore the black platform. They electrify it.



Leaping Lizards!

The sandals are making me think of comic books.



This partially paisley top is a little busy and with the sandals added, there is a lot going on here. So I decided to throw another log on the fire and put on a 4-pocket jacket and tortoise-patterned belt. Paisley and tortoise in small amounts — don't laugh — sometimes read neutral. You know what I am talking about; the same principle explains why (and how) leopard goes with everything.

More on this top: You wouldn't think that melon (cantaloupe, not honeydew) would look good with this blazing red paisley . . . but it does. Most surprising.

This pale pink bag — selected only because it was in the front hall when we zipped out to take a few quick pictures — works, too.


I bought the top because of the paisley border. Even when it's not 98 degrees there is something hypnotic about this paisley.


Come closer and be mesmerized. And bring a glass of water.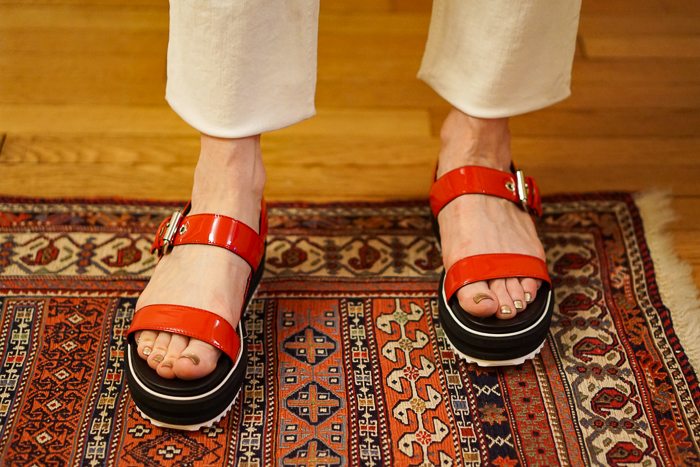 Coda: Don't be mad, but I cut the cuffs off these white jeans. I liked the cuffs, but I really wanted a little flare at the hem. Because the pants were tapered to the ankle, the cuff was snug around my calf.