Since I often show clothes that have been altered or re-purposed — sometimes, significantly — I thought it might be helpful, or at least interesting, to see what these treasures look like before those radical changes are implemented. Here goes!
I like colorful tops to wear underneath jackets and sweaters. Even though they may only be fleetingly visible, a great blouse can add a lot of depth to an outfit. So, I am always on the lookout for interesting things. These two caught my eye on YOOX many months ago, so I put them in my virtual shopping cart to see whether they would go on sale at some point . . . and they did.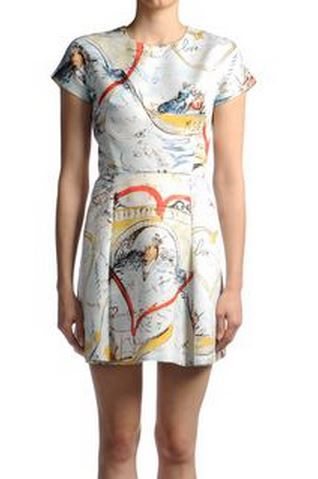 I am not crazy about the way this fits. I am also not crazy about v-necks on myself. I asked my husband what he thought and he said, "Wellll, it's not very flattering."




That hardly ends the discussion. More like, it's an invitation to negotiate. And I don't mean negotiate with my husband; I mean me negotiating with the blouse and possibly a third-party neutral like the tailor.


What if I turned it around?


Much better.
So now I only have two problems: (1) there is a slit down the front (formerly the back) from the neckline to drawstring waist that will lead to indecent exposure if it is not closed; (2) the design features a hem that is longer in the back than the front, but when the blouse is turned around, the hem is longer in the front and that's a little weird.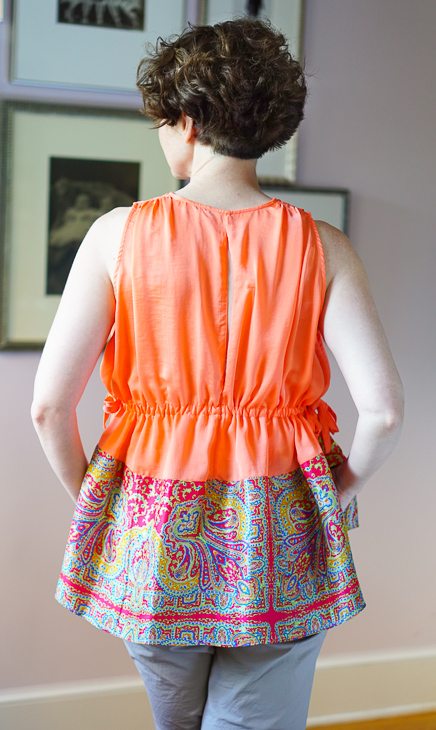 This is child's play. The slit is on-seam and can be easily closed. The hem can be fixed in one of two ways: either the front (formerly the back) can be shortened by 2 inches to make the hem even the whole way around or the paisley trim can be removed, rotated 180 degrees, and re-attached so that the back is longer than the front.
One last detail: long ties are used to gather the drawstring waist. Very long ties. I could have them shortened, but here it's just easier to tie them in a double-bow.
Remember, no trailing ends!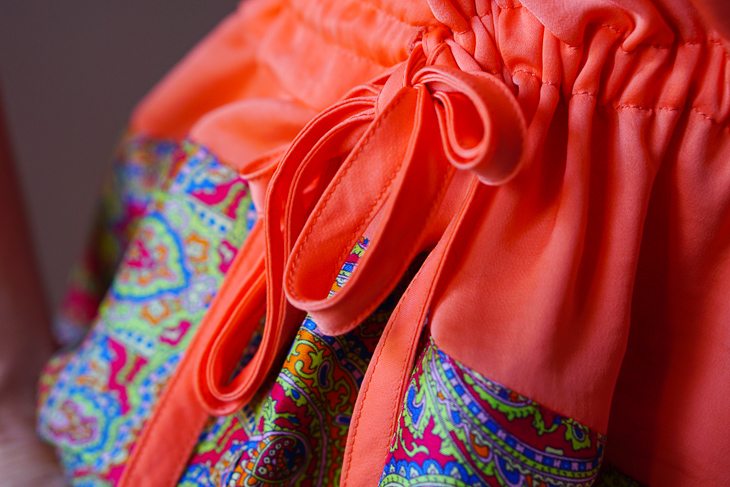 The dress is even easier. It only needs to have 10-12 inches cut from the bottom and a new hem. This is a very inexpensive alteration. The skirt (which will soon be a peplum) has stitched down pleats; I may liberate those myself (easy to do with a stitch-remover or a small, sharp pair of scissors) or ask the tailor to do it, or I may just leave them alone. I'll have to try this dress on with a pair of pants and see how snug or roomy those pleats feel.
If you've visited YOOX, you may be aware that MSGM did make a top in this very fabric and you may be wondering why I didn't just buy the top?
I bought the dress because it had more shape to it: a defined waist, more graceful sleeves.
So there you have it: a quick glimpse into the circuitous mind of The Directrice.