It's February! Time to settle back into my rut.





You know what that means.

Religious habits!



How fun, this sweater?

It's 100% cotton, which isn't my favored fiber. I prefer wool, for it's resilience and superior heating/cooling properties.

Wool is to temperature what lettuce is to digestion.

For the mathematicians, [Wool:temperature::lettuce:digestion].


Speaking of fun, do you think the phenomenon of Hamilton has opened the door for a multi-media reappraisal of Cotton Mather?

Isn't he deserving of his own rap-backed biopic? Hard 2 Say.

But for those who have been reserving judgment on Hamilton, who aren't ready to jump on the NYT/Rolling Stone/Tony/Pulitzer bandwagon and are waiting for The Directrice's review . . . it is coming.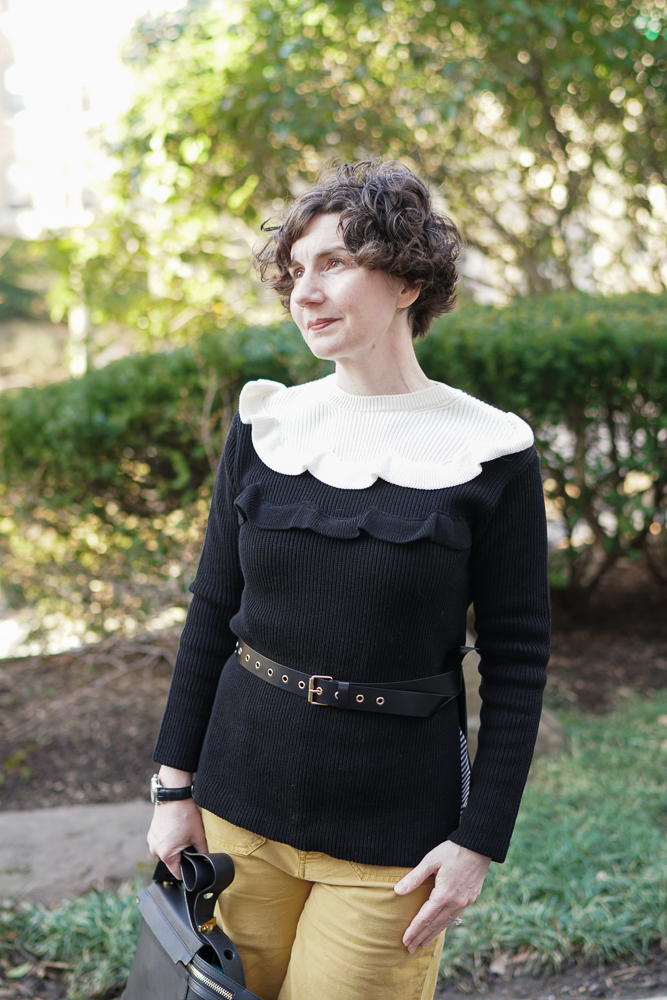 This sweater, in addition to having an enormous white cowl, has deep vents at the sides.

On the model, the sweater was shown with the front tucked into a miniskirt. The back was left out . . . and nearly covered the skirt. She looked great, but it was not the look for me.




Taking inspiration from a colleague who has turned more than one garment into a Caped Garment using a belt, I decided to partial cinch here.

I think it works well.




One of my indispensable striped tee shirts, showing me once again why it is indispensable.
For contrast, here are a couple of photos showing the sweater unbelted.
Ellie posed a question under Monday's post, Eiffel Duck:
What's the word on wearing necklaces and brooches at the same time?
I shared my thoughts in response to her post (look back
here
), but I'd like to hear your views. What do you think?
Sweater: RedValentino; Belt: Fausto Puglisi; Pants: JCrew; Shoes: Coach; Bag: Bolt Bag from Sophie Hulme