My husband bought this little jacket for me a few years ago as a birthday present. I was very impressed with his choice, which was the product of deductive reasoning and limited sampling rather than an aesthetic vision. He's not terribly interested in clothes, but he knows that I get some of my casual clothes at Anthropologie and he has observed my preference for little jackets with jeans. So he betook himself to Anthropologie, scoped out the jackets, picked one with interesting buttons, consulted the sales clerk, et voilà!
The genius in this jacket is that it appears to be a blazer and a waistcoat, but it's actually one piece.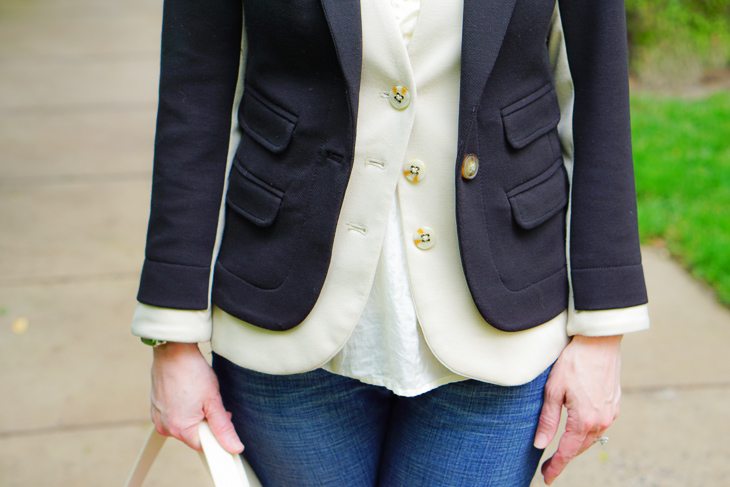 The label on this jacket is Cartonnier, a company that I sense (but do not know) has an exclusive relationship with Anthropologie. Anthropologie carries jackets by Cartonnier every season and they are often made of a substantial cotton knit (lighter and softer than ponte, more like a sweatshirt) which I think is perfect for casual office wear and the weekends.
The jacket's pink lining prompted me to look for a little pink in my closet to finish the outfit and I found it; this ivory-colored blouse from JCrew seemed just the thing. The ivory doesn't match the color of the "waistcoat" (which is more of a putty color), but it's close enough to blend into it; given the high level of contrast between the two layers of the jacket, it was important to have little or no contrast between the jacket and my top. A little pink is found in the seams of this blouse, which were sewn and serged with neon pink thread, which creates a neat effect (hazy, neon skeleton) through the semi-sheer fabric.
And then, since it is Casual Friday, why not a printed canvas courier bag for my wallet and precious work?
[Hint: If you are ever puzzling over what accent color might go with a dress or jacket (for a scarf, bag or blouse), the answer might be right in front of you — in the lining. You may also find inspiration looking for accent or coordinating colors in rugs and fabric. There, a clever professional has already done the work of developing a color scheme.]

Jacket: Cartonnier from Anthropologie; Blouse: JCrew; Jeans: Lucky Brand; Shoes: French Sole New York; Bag: Hable Construction Rose Checker Camper bag