I bought a bunch of things during the post-holiday sales (late December/early January) and have been rolling them out. I bought them so fast, but as I am rolling them out slowly I cannot help wonder if I was overly hasty in my acquisitions. And I haven't even shown you the weird stuff yet.




You know my weakness for effortless, and thus slightly subversive, French style? I bought this Isabel Marant dress because I thought it conveyed that message. But I fear that it conveys a different message: No Effort.
Let me tell you what I am supposed to look like. I am
supposed to look like
I am wearing a chic dress with a blouson top and oversized half-sleeves because I am too cool to wear a form-fitting sheath.


The fabric is an elegant navy glen plaid in a tropical weight wool.

Perhaps I need to take the skirt in a little?


For now, I think I have salvaged the situation with a great belt. Come closer and see my great belt.


I first saw a belt like this on Style du Monde. As you can probably imagine, it spoke to me: yellow; adjustable; wacko.
How not love?
What outfit wouldn't be, instantly, twice as fun if adorned with this belt? Think grey and blue dresses, navy and black jackets.
My black/white/grey tweedy jacket!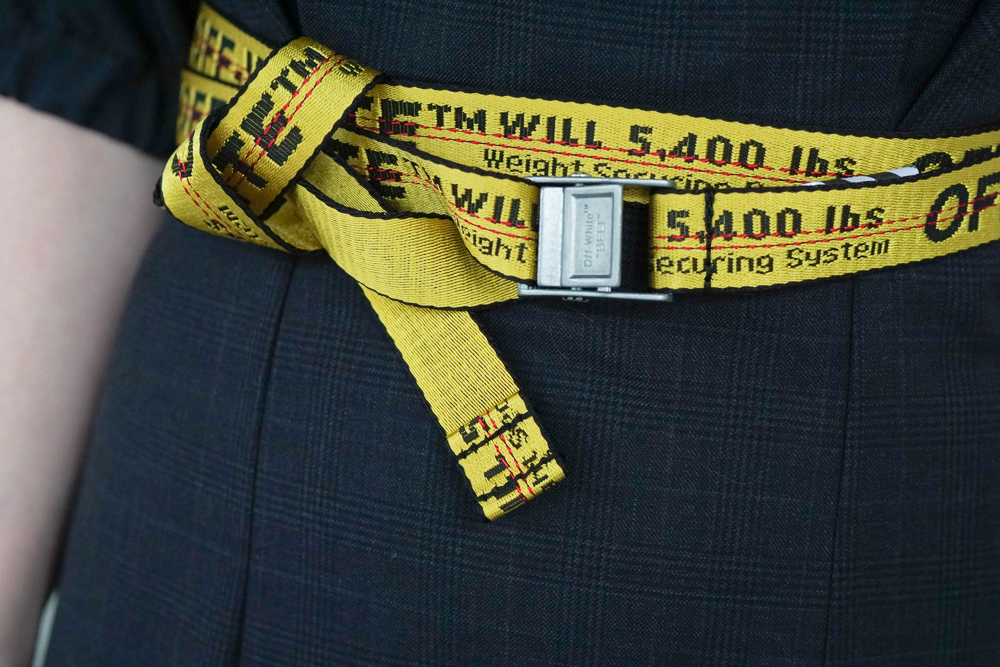 The Photographer asked, so delicately, so gingerly, Do you really want to wear something that says 'Weight Securing System 5,400 lbs?

HoW cOuLD I NoT?




I've been waiting my whole life for this belt. My law partners don't know it yet, but they've been waiting, too.
* Everything about the Off-White website is riveting, starting with the fact that each page says "WEBSITE" — in quotes — at the top of the page. Is it genuine? Ironically hip? Check out the How To videos; my favorite is "PLASTIC BAG" — which is the third from the top, left side. I think it's best if you don't ask too many questions or try to understand. Just let it wash over you.