In an effort to convince you that I am not the No. 1 cause of climate change (5 new garments per year! 5 new garments per year!), I am showing you some really old things that I still wear all the time.

Behold, a cardigan purchased in 2005 and a tunic purchased in 2013.
Old friends!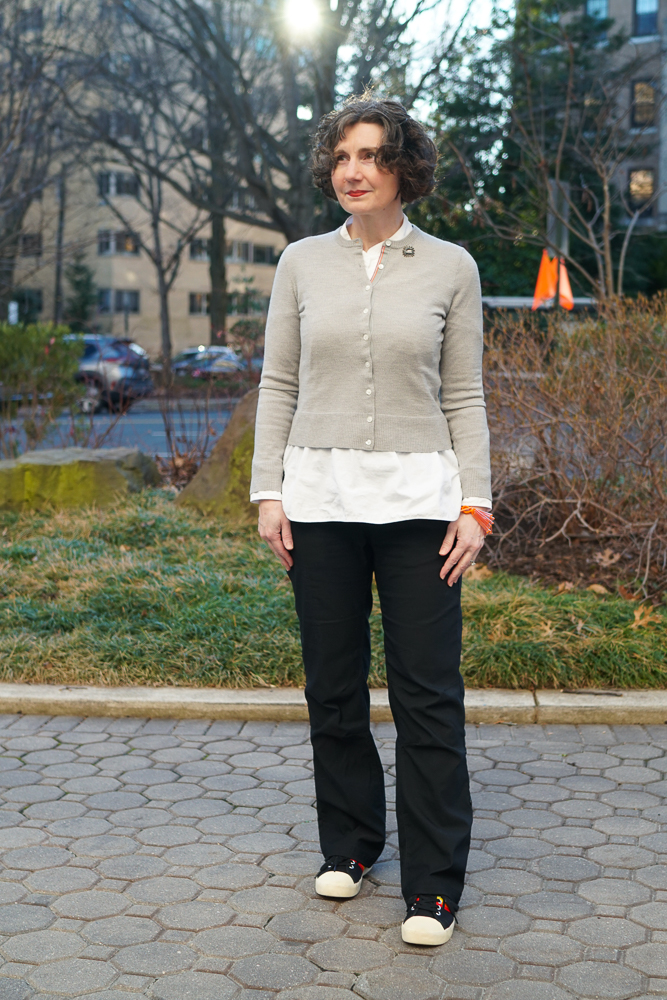 You can't always tell, can you, what will turn out to have the greatest longevity. If we could, I guess we'd know how it all ends.+
What makes these pieces great?
The cardigan is perfectly shaped and made of merino wool with just a hint of stretch fiber. It has worn, to borrow a phrase from my best friend's mother, "like iron." The tunic is big and boxy, but because the front is crisp poplin and the back is a cotton polyester open weave fabric, it arranges itself perfectly under a sweater or jacket that hits above the hip.
The tunic and sweater are doing all of the work here.
To keep up with my New Year's Resolution, I did add a couple of pieces of fun jewelry.
The bracelet you can see in this shot. A brooch will come into view shortly.

Here's a closer shot of the bracelet, which is 16 strands of long, glass tubes, strung on bright orange cords.
It has delicacy and movement. And it's shiny!
If you are tempted and buy one for yourself, let me know. There is a small trick to putting it on with one hand.
Here's a bigger shot.
The orange is a nice pop of color with these neutrals. It also coordinates with traffic flags (see one in the background), traffic cones, and high-visibility garments worn in a variety of hazardous occupations.
I found this bracelet (and the brooch you haven't yet seen) on a website called Please Do Not Enter, which describes itself as a "shopping experience" curated by two French collectors. Sounds good to me.
It's a collection of interesting art, jewelry, and objets — reasonably priced.
On to the brooch!
It's so much smaller than the ones I usually wear. Can you see it?
You may need to come closer.

This enamel brooch just made me laugh.
In order for the eyes to pop, I affixed a tiny piece of white paper to the back of this brooch.
+ The Photographer and I watched White Noise last night. The main character and his wife discuss (not infrequently) their fears of death and their fears of outliving one another and in one of these conversations, he announces, "I'm tentatively scheduled to die."  Which is his way of processing a toxic exposure that may (or may not) be the ultimate cause of his death which may be decades away. I keep laughing about this.
++ I know how I came to be there! I was looking for sellers of Tzuri Gueta jewelry in the United States. Tzuri Gueta will the subject of a post in coming weeks.