A Post in Which We Prove that All the Greens Go Together.





Some of you may remember this dress from 2015 . . . when it was not new but was shown for the first time.

The Photographer and The Directrice disagreed over the color. He thought it was blue; She thought it was green. Over time, their positions are hardened.



The more important thing is that the color of this green dress reminds me of my favorite dress from childhood.

I readily admit that it is a blue-green with heavy yellow undertones.




Despite the yellow undertones in this dress, it looks good with the darker green necklace — which is a grey-green.

It is possible that the necklace also has yellow undertones; my understanding of color is not sophisticated enough to tell.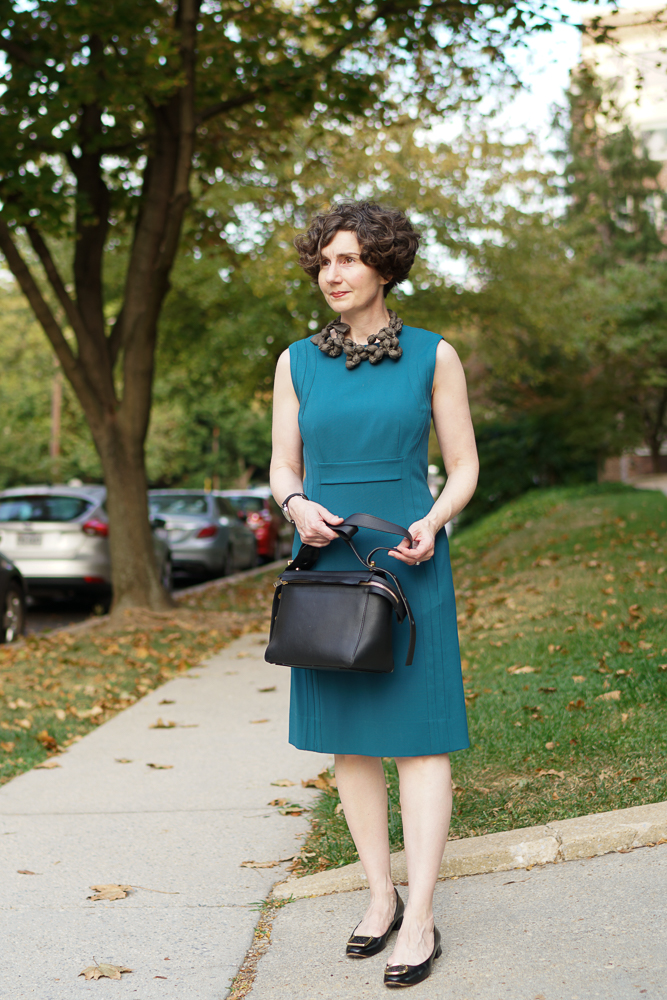 Not only are we learning, here, that all greens go together, but that this necklace goes with everything.
Perhaps I will win
The Directrice Challenge
by wearing this necklace every day.
There was no requirement that I wear a different piece of jewelry every day . . . though I admit such a goal was implicit in the proposal.

Speaking of jewelry more broadly, I went to the Smithsonian Craft2Wear show at the National Building Museum on Friday. Imagine that enormous space filled with beautiful jewelry and textiles!* Just the pleasure of spending two hours looking at the works on display and chatting with the craftswomen who made them would have been time well spent, but I had the additional treat of meeting a chic Directrice reader (Andrea, carrying a beautiful Marni trunk bag with a really interesting embroidered (I think?) strap) who introduced herself to me.** I didn't think things could be more pleasing — and then RBG appeared, sending (I am not kidding) a jolt of electricity through the assembly.+



I bought a few things at the show, which will be featured in future posts, but wanted to draw your attention to a few of the jewelry-makers I met, so please look at the links below.

Back to the necklace, which is looped and tied a little differently today: Here you go, take a look!



In order to really see what's going on, you need to lean in.

Here are some of the works that I was particularly excited about.
Dress: Diane Von Fustenberg; Bag: Sophie Hulme; Shoes: Tory Burch
* If you were just scanning the crowd at Craft2Wear and didn't know why it had gathered, you might have imagined that it was a competitive eye-wear event. The concentration of excellent specs was very dense.
** If you ever see me out and about, please do say hello!
+ RBG was among kindred spirits, to be certain. She had two secret service officers with her, for which I was very glad — even though they prevented me from approaching her (which I would have liked) and saying something heartfelt, but stupid (it's all for the best). She is as petite in person as she looks in photos. I like the idea of two big fellows clearing a path for her.