Recognizing that there is some difference of opinion between me and my readers in the Commonwealth nations about what "khaki" is — is it a color, a fabric, or a feeling you get deep down inside? — I think we can all agree that The Directrice cannot resist a khaki dress.




And that the discovery, purchase or wearing of a khaki dress usually prompts a reference to Karen Blixen/Isek Dinesen/Out of Africa or Mogambo or both/all/every!

Check out my Mogambo dress.*

Here is where I would ordinarily say something like, "The beauty of this dress is its versatility" but that's not true here.

This dress has far too much going on to be versatile: shirred yoke, graphic buttons, gusseted pockets, french cuffs. There are only two ways to wear this dress: with a belt and without. This dress can bear no jewelry, no scarves, no layering under or on top, no distinctive footwear.

Fortunately, this dress doesn't need to be versatile because it is very charming exactly as it presents on first glance.
Let's take a moment to focus on the versatility-denying details.

These over-sized pockets expand. Think of the treasures I could carry in them: a trade-sized paperback novel, a guinea pig, a bag of Dove chocolate-covered almonds.** What else?
I feel, quite strongly, that this dress requires a substantial belt and that the belt should be black. I tried the
Kick-a$$ belt
, but liked this two-headed number better.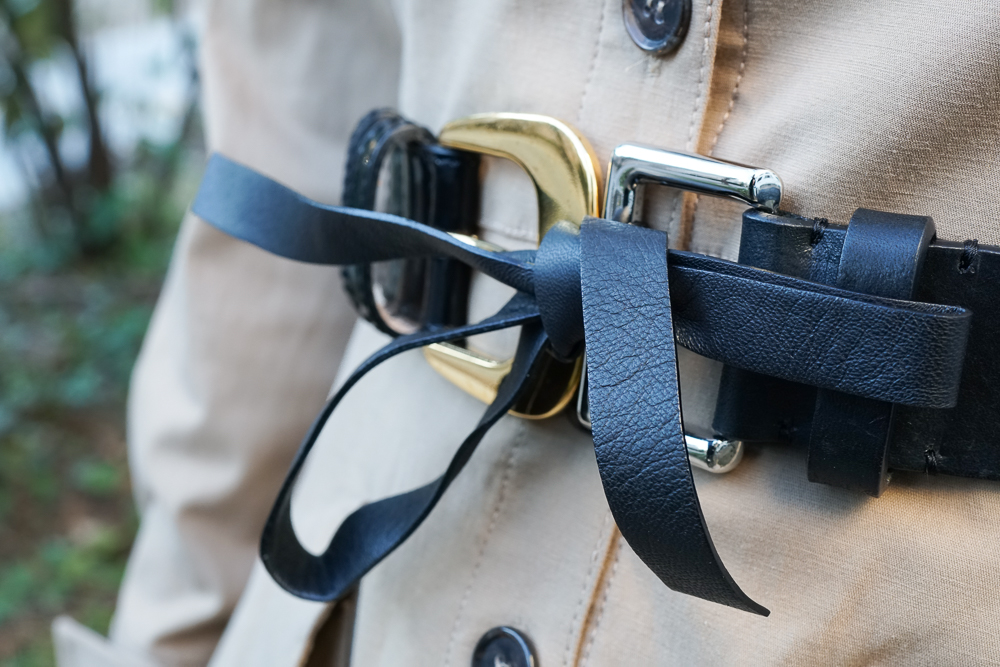 We're darting around here. Next up: the cuffs! These cuffs are more like bands around the wrists.



Zipping back up, the yoke features French seaming, which is shirred and unfinished.


I bought this dress in an end-of-year sale, marked down roughly 65 percent — which was necessary (from my perspective) to subsidize some alterations.

I had sleeves re-set at my natural shoulder (they were dropped) and had Fatima shorten the overall length by adding a seam at the waist (rather than simple hemming the dress).
For those who care, a quick look at the accessories: ankle boots and a glossy black bag.
Dress: Rejina Pyo; Belt: Maison Margiela 11 from YOOX; Bag: Orla Kiely; Shoes: 8 from YOOX
* In trying to find some contemporary commentary on
Mogambo
, I ran across an article comparing it to
Red Dust
, a film with a similar plot also starring Clark Gable. My general takeaway is that
Red Dust
is the better film (even though the reviewer noted that Clark Gable shouts all of his lines for the first half of the film) but that
Mogambo
is the less offensive in its portrayal of the local population. Note that I said
less
offensive not
in
offensive. I doubt I'll watch
Mogambo
again — once, 30 years ago was enough, but I did watch
Singing in the Rain
last weekend and was as delighted as ever to do so. My favorite line in this watching was "Believe me, I don't like her half as much as I hate you, you reptile."
** I have worn larger pockets.
Once.