Today, Directorate, a break from my penetrating travel writing about people, places, and things for a brief discussion of my suitcase. I'll start with the headline. I am going to grade my packing for this trip a "B" — but there is a chance that grade will rise next week. It may also drop.
I should have looked more closely at the itinerary while I was still in D.C. And asked more questions about laundry facilities. Tomorrow, we board a boat to sail around the Galapagos Islands. I did not consider carefully, until we arrived in the humid environment of the Mashpi Reserve, what no laundry on the boat would mean. Hand-washed laundry does not dry here. Thus, six days of hiking is a lot of days to go without laundry.
My current concern is that I packed too many dresses (four) and not enough tee-shirts and socks.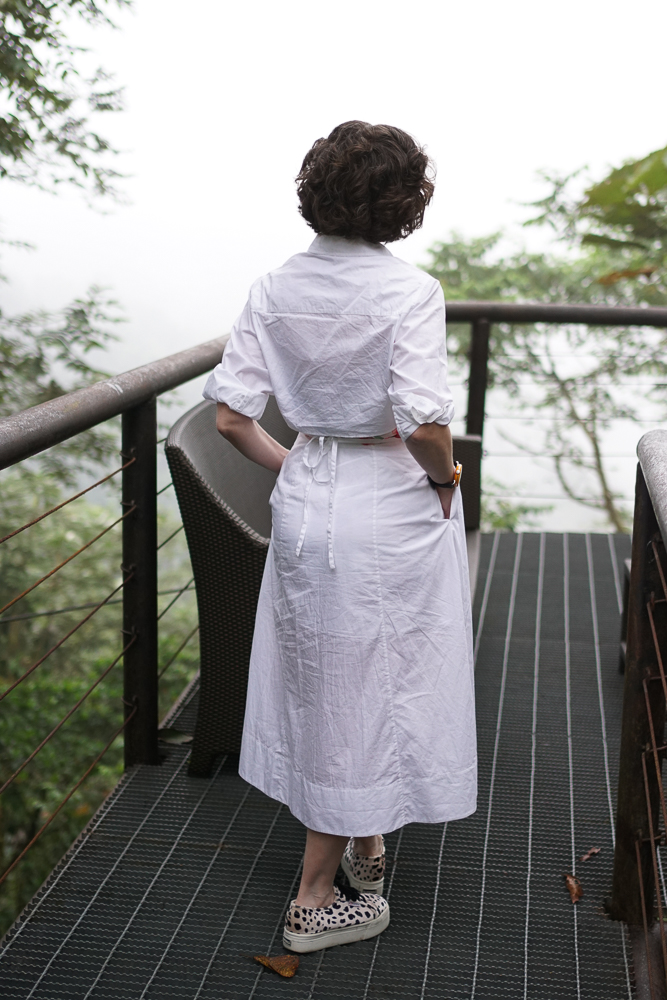 I am particularly questioning why I packed this white dress — so vulnerable to sunscreen damage — for this trip.
I just like it?
Which begs another question.
Why do I like this dress, which sort of makes me look like WW2 era nurse, so much?
I just do.
Here is the con-side of packing four dresses for a hiking trip: We only spent two days in a city. We might have spent an additional day visiting a small town where a dress as daywear would have been appropriate, but we changed our itinerary after we arrived.  So, out of 19 days, only two or three would have been dress-days, start to finish. I could have packed two or three dresses and had extra room for more tee-shirts and socks.
Here is the pro-side of packing four dresses for a hiking trip. It's nice after a day of hiking to shower and put on clean clothes! And putting on a dress for an evening spent inside (away from bugs and mud) feels special. Also, lightweight cotton dresses are lighter than tops and pants (dressy or casual) in a suitcase. O.K., then. That's a rationale.
I packed the fatigue green dress (3/4 sleeves) and black smocked dress with balloon sleeves (long sleeves)  you've seen on previous trips to South America, plus the black Somerset dress and this white shirtdress from COS.
This shirtdress has a vented waistline — is open at the sides and back.
I like these split waistline dresses. For work and other modesty settings (there are children staying at this lodge!), a camisole underneath prevents too much exposure. (Note: A patterned camisole looks like an intentional choice rather than a work-around.) At home in D.C., I would wear this dress out to dinner or on the weekend without a camisole and it would be very cute. I think.
Regarding the "historical nurse" aspect of this dress. I am hoping that rolling up the sleeves and wearing fun shoes (like these sneakers or colorful and/or sporty sandals) make a difference, although I suppose those choices might just make me look like a very industrious nurse.  In D.C., would also add a fun brooch.+
When my hands are by my side, the vent is less noticeable. But here you can see the split-waist better.
Note that the top of the dress has a shirt-tail hem — a nice detail.
Also note: The gap seemed smaller before I laundered the dress. It could be that it shrunk a little or it could be that ironing would make a difference. We'll never know.
The final thing I'll say in defense of my packing choices (today) is that long-sleeved dresses are very helpful for sun protection.
And the final criticism of my packing choices (today) is that I did not need to pack these sneakers AND the Doc Martens. But surely you can see that the Doc Martens with this dress would have been steampunk nurse — a look that even I am not willing to try on.
This is the fourth Ecuador post. Stay tuned for two more!
Dress: COS (summer 2023); Floral camisole: Vince (very old)
+ In 2022 I bought (for posterity) a small, oblong brooch — made of blue enamel — that says "vaccinated" on it. I wouldn't wear that pin with this dress, except for Halloween, when it might make an awesome costume. By the way, the vaccination rate in Ecuador is very high — above 80%.  In the tourism and hospitality industry, it is even higher.