You may remember that a significant portion of Q1 2016 was devoted to the search for a white statement blouse, which led, ultimately, to the purchase of three statement blouses. Follow these links if you need to re-fresh your memory: Ghost; Pirate; Flounce.



For those of you who wondered how the most arresting of the statement blouses would fit into my daily life, wonder no longer! Here it is with my favorite jeans, my favorite black flats (which actually have a tiny wedge sole), and my favorite new sweater from Eileen Fisher.


This blouse has a tidy collar, smart cuffs, and a sweeping back. The front and back are joined at the hem by white jersey gussets. It's all quite dramatic, but nevertheless looks casual and cozy here.




From behind, the drama is most apparent. Perhaps I look like an apparition as I walk down the halls of my office. An apparition that likes to bundle up.

Note: The three vertical black stripes on the yoke — a Y-3 motif — are visible just above the neckline of the sweater.
I am a big fan of Eileen Fisher. I don't love everything in the store, but the things that I do love, I love without reservation. Like this sweater, which I bought for myself and my mother for Christmas.

Things to love: dark flecks in the yarn, center seam, short length. And there is one more thing that you cannot see and will have to rely on me to convey: Soft as a cloud.

When I bought this blouse, I imagined that these smart cuffs would require particular attention in laundering — i.e., ironing — but that isn't actually so. They look pretty good after laundering the blouse in hot water and hanging it to dry.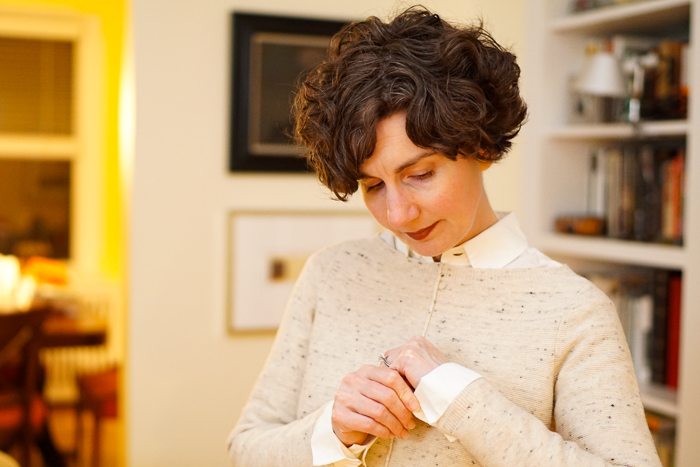 Objectively, I like the color of this sweater, but I think it would make me look sallow if worn without anything underneath. You may ask, Why, Directrice, would you buy a sweater that you think would make you look sallow?

A fair question! But I have a good answer: A white blouse provides a little contrast with the sweater and is just the thing to keep my complexion looking healthy.


Do you see who has wandered into the frame?



It's Harper, house-cat and companion animal par excellence.
Have a fantastic weekend! I've been thinking about my New Year's Resolution . . .
Sweater: Eileen Fisher
Peppered Wool Box Top
; Blouse: Y-3 Yohji Yamamoto; Jeans: Lucky Brand; Shoes: Lazio Collezione; Bag: Coach