I know I say this at least twice a year, possibly more, but it's very important to go through your closet when the season changes.




You should try on everything: to see if it still fits and is flattering, to determine whether you still like it, and to make sure that it is in good repair.

Sometimes I am surprised to find that something I like is no longer flattering or that something I never paid much attention to is actually kind of great.

I had this boucle dress (purchased
April 2016
) slotted for possible give-away and replacement in 2019.
But then I tried it on and realized that I had forgotten it's kind of terrific.
This simple dress wasn't expensive, but is very charming. It's also slightly more complicated than it might seem at first glance. Note the yoke, acute cap sleeves, and curved shirt-tail hem. Small but very nice details.
I also realized that this subtle boucle (black and white that
reads
grey) is an excellent backdrop for an eye-catching accessory.



After pairing the dress with this — for good or ill — stunning belt, I wondered if it still needed a little something more.

But what?



Here is a mystery:

How is it that my fake diamond brooch is serenely blending into my ensemble like a chameleon?

And at the same time providing a little texture and light at the neckline, balancing the shine of patent leather at my waist and feet?




It works!

For those who haven't seen it before, you may want to come a little closer to take a look at the details of this distinctive belt, previously seen
here
,
here
, and
here
.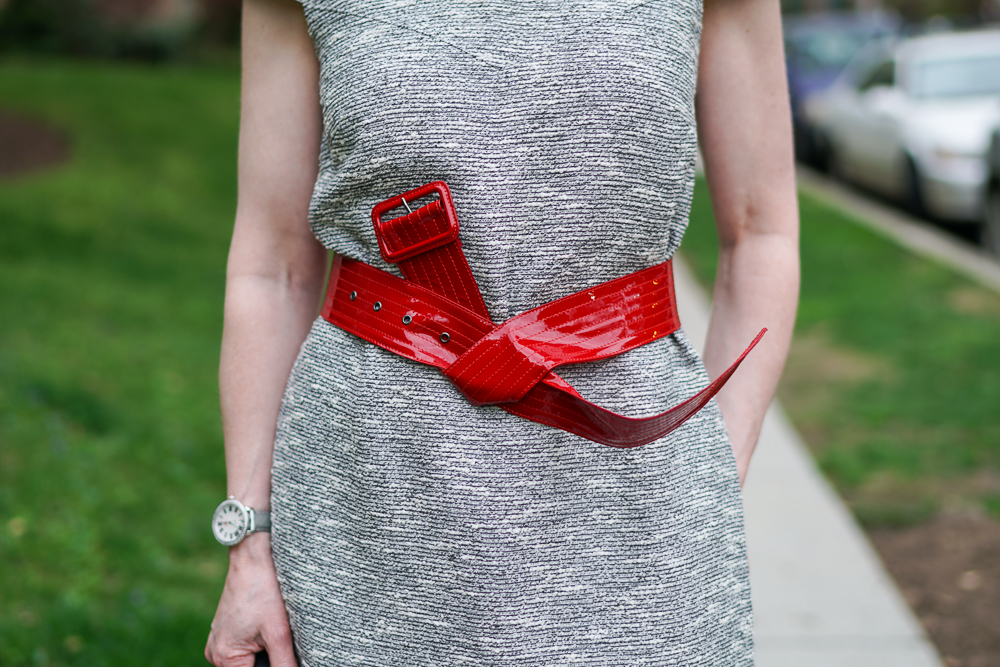 Dress: JCrew; Belt: Maison Margiela 11; Shoes: Tory Burch; Bag: Coach; Watch: Michele