How many of you read the title of this post and said, "Oh Directrice, you had me at To-Sew"?

For those who are baffled, an explanation shall be provided forthwith!
Alternate titles for this post were
The Directrice Gets Weirder (Part I)
and
Heart of Darkness
.
Pour quoi
?
January — the month when most people turn over a new leaf by re-embracing exercise, a healthy diet or some other personal improvement regimen — appears to be the month when I descend to a new level of sartorial eccentricity.
Do you remember what happened last year? Allow me to remind you.
This
,
this
, and
this
happened.
And don't forget 2017:
this
,
this
, and
this
. And
this
.*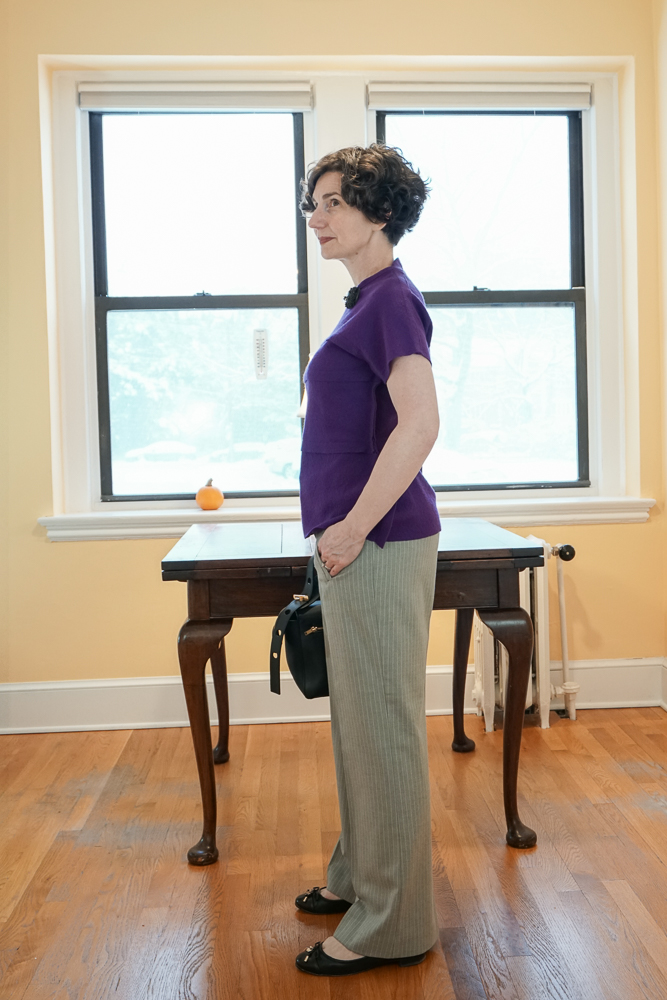 Why is this? I have a few theories.
Theory 1: Year-end reflection leads to the realization that one cannot rely on external validation for feeling of self-worth and must instead internally promote oneself, which temporarily leads one to believe — among other things — that one can fly.

Theory 2: Year-end reflection leads to the realization that we only go around once in our lives, which reminds one that it is important to find beauty, amusement, and delight in even the small gestures.

Theory 3: If the year is a successful one at work, there are little indulgences commensurate with that success.

Theory 4: All the weird, unsalable merchandise from the year appears in post-Christmas sales and when it's all shown together, it looks relatively normal.

Theory 5: The weird, unsalable merchandise on offer in the post-Christmas sales isn't obscured by thousands of pieces of normal-looking clothes and thus is easier to find.
Come closer and look at this turtle-shell — I mean,
directional felt top
— by Commes des Garcons on The RealReal.


For those who want to take a closer look at my brooch, be my guest.


So many things to love about this top: the color, the material (felted wool), the blatant construction, the super-structure it imposes on top of own silhouette.

Love everything.

This top was too big for me (too long and loose through the sleeves) and so I asked Fatima to take it up along the shoulder seams. We decided to modify the design just a bit and remove the excess seam allowance (which showed and looked like a spinosaurus's ridge) to create a smooth line along the shoulders. Fatima did create a modest ridge around the back of the neckline to honor the spirit of the original design.


The construction is not simply a contemporary delight for me. It generates a warm feeling of nostalgia for my seventh grade home economics class.** Our sewing project was to make a whimsical throw pillow, chosen from one of several design kits manufactured by a company called To-Sew. The sewing was mostly simple appliqué work using felt. The most popular design was . . . a hamburger. I made a hot dog. There were animal designs, too, and I think all of the animals had buckteeth.
I found these kits on eBay. The fact that one of the choices is a cell phone tells us that To-Sew was still dominating this field in the early 00s.

So please, if you remember To-Sew, share your memories. And if you didn't learn or develop your sewing skills with To-Sew, please share a description of your best Home EC project.
Top: Commes des Garcons from The RealReal; Pants; Nanette Lepore; Bag: Sophie Hulme Bolt bag; Shoes: Coach; Brooch: Karen Gilbert
* The acquisitions happen between December 20 and January 21 but sometimes do not roll out on this blog until later.
** To put my Home EC class in proper context, the year was 1982-83 and my junior high school offered 7th graders three choices: a full year Home EC curriculum, a full year Shop class, and a year divided between the two. I did the hybrid class (thank you, Mom and Dad!) although most girls did not and only a couple of boys (maybe 3?) joined us.