As I mentioned on Monday, I went to New Hampshire for the days before the election to help the NH Democratic Party get the vote out.


I am assuming that The Directrice is not your primary news source, and that you know how things went?

Well, maybe you don't know the specifics on New Hampshire.

Hillary won NH and Governor Maggie Hassan defeated the incumbent Republican senator and will become Senator Maggie Hassan. New Hampshire will be sending an all-woman, all-Democrat delegation to Congress.


In an effort to restore normalcy, I am publishing this trivial post on what I wore to canvass.

Actually, packing for this trip was a little tricky because (a) one wants to pack light (b) but look nice and (c) be comfortable while walking around all day (d) in temperatures ranging from mid 40s to mid 60s.

So I packed three sweaters, a pair of ivory corduroys, a pair of jeans, a white blouse, and an assortment of long-sleeved t-shirts and three large scarves. I also packed a bunch of other stuff that I did not need. I wore a pair of khakis and a cropped wool melton jacket (for outerwear) on the plane.

Here is one of the sweaters.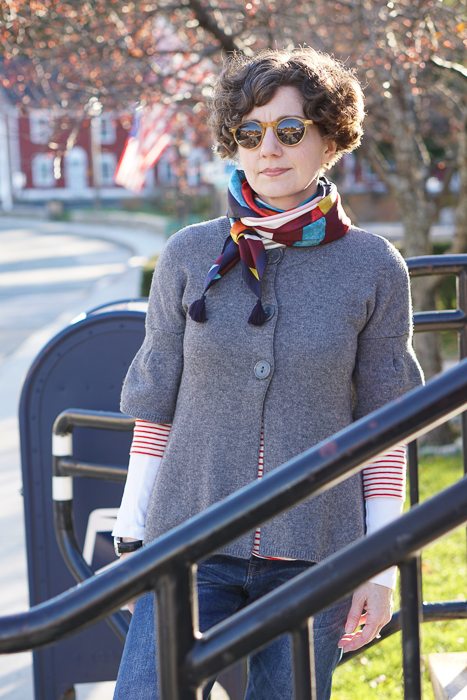 I know we've had our differences on short-sleeved sweaters, but I maintain that they can be very useful.

When is a striped t-shirt the wrong call?

NeVEr!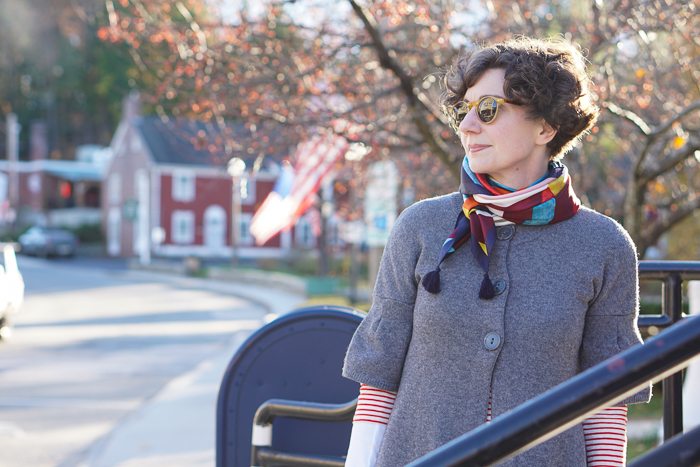 The foliage was several weeks past its peak, but these beautiful yellow leaves clearly were hanging around to see a woman elected president.
For those curious about the ivory cords, here they are on Day 2 of canvassing in Derry NH with
the silver sneakers
.
Seemed like almost everyone in Derry had a guard dog. Some had more than one. The Photographer and I seemed to wake all of them up. I would rate many of them as
highly effective
.
The silver sneakers
, by the way, were genius. So light and comfortable — I wore them three days straight.


My mother gave me a pep talk on the morning of the 9th. Mothers are so good at this type of thing. She says we will get through this. (There was more to the pep talk — historical references, a touch of defiance, etc. — but that's the essence.)

In a shameless attempt to cheer all of us up, a photo of my favorite NH voter: Ava the Bernese Mountain Dog from Peterborough. She's no guard dog; she's a lovey-dovey.
Sigh. We will get through this. Take the weekend to rest, process. Next week we start moving forward again.



Sweater: Vince; Striped t-shirt: Rebecca Taylor; Sneakers: Cole Haan ZeroGrand; Jacket: Robbi & Nikki; Striped scarf: Tory Burch; Leopard Scarf: JCrew