The Photographer and I reached our sixth wedding anniversary (Sugar!) last week and took ourselves downtown for dinner this weekend to celebrate.

Once dislodged from my nest, I agreed to take photos on location, too.

I picked a spot that is beautiful, dramatic, and personally meaningful to me.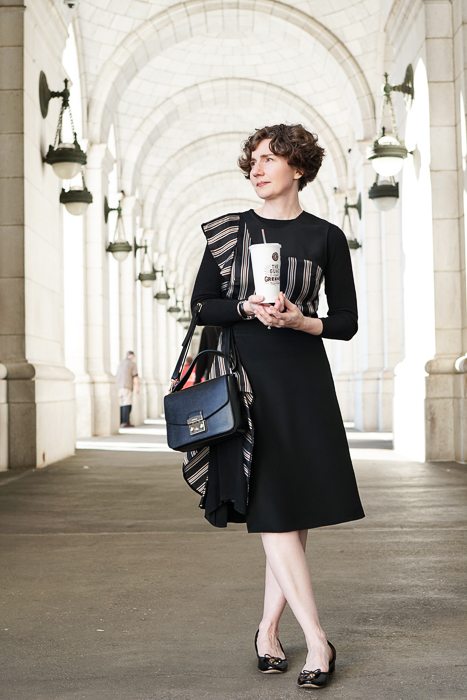 You know how models are always saying in interviews that modeling is hard work?

I don't know that I believe that.

But I do get thirsty and restless while The Photographer figures out his camera settings and lighting. Therefore I took advantage of the our location to get myself a delicious soda.
You've seen this dress
before
. It's such a great dress, it needs to be worn as much as possible — agree?
For variety, I am wearing it here with an ultra-lightweight, wool crewneck sweater and low block heels.
I think it would also look good with a lightweight turtleneck.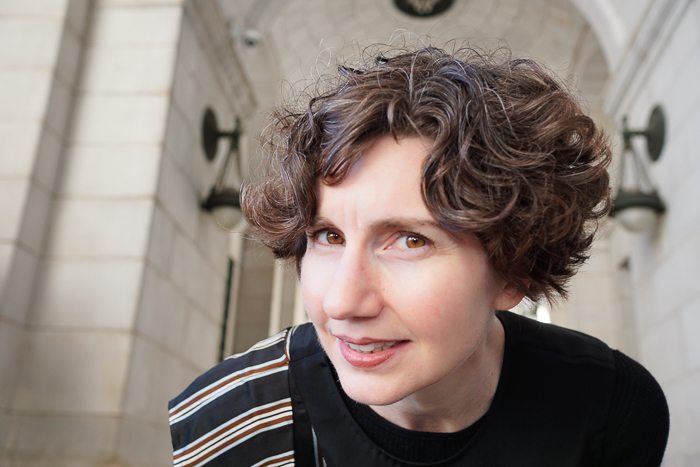 For those who neither remember nor care to look back, I am providing multiple perspectives:


Do you know where we are?

It's another Beaux Arts treasure.


I passed through Union Station at least twice a day, every day that I was in law school. For those of you who have some familiarity with D.C. and are feeling confused, Georgetown Law is not on the Georgetown University campus. It's not even in Georgetown. It's closer to the courts, located at 600 New Jersey Avenue NW.



If you live in D.C. and haven't seen Strangers on a Train, you should. It's a great film and you'll get a kick out of the opening scene.

We took a few shots inside, too. It's an incredibly busy station, but a friendly one — so we received much encouragement and interest from passersby and in turn helped some tourists with their photos.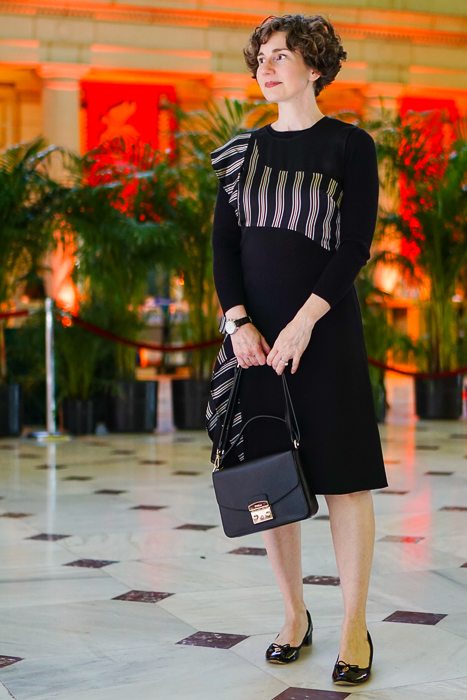 Special Bonus: I have tucked a scarf that harmonizes with my dress into the collar of my trenchcoat.



Dress: 3.1 Phillip Lim; Sweater: Eileen Fisher; Slip: Calvin Klein; Shoes: Tory Burch; Bag: Furla Metropolis; Watch: Michele