The French revere white denim, and they wear it year-round.



I've always thought of white denim as a summer thing, but I can see the appeal of wearing it deep into autumn. By January, however, I am wearing ivory corduroys.

But it's not January now, is it? So here I am, sharing my ultimate lazy summer outfit suggestion with you, which is: white denim with a sleeveless white top.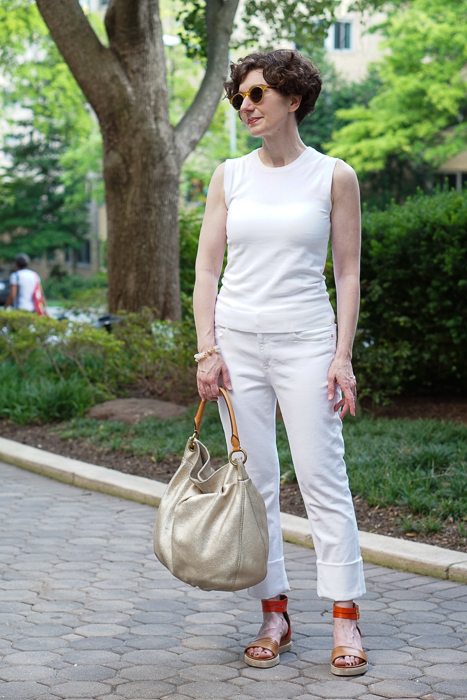 I am not 100% sold on these jeans. I wanted to find a pair of cropped, slightly flared white denim pants. I had no luck and therefore settled for the next best thing, which is a pair of white jeans, which I am going to have shortened. As you can see here, I have just rolled the cuffs here as a temporary measure.

On the one hand, I like these deep cuffs. On the other, I think that the cuff is narrowing the fit of the leg around my calves because these jeans are slightly tapered. I am a little tempted to cut 8″ off the bottom myself and leave an unfinished hem . . . but I have a feeling that will turn out badly.


Why am I urging white denim?

White denim can establish an outfit. It has presence. For example, if you put on white jeans, a white top and fun sandals, see above, you are wearing an outfit.

Same is true of white jeans, a black top, and black sandals, which don't even have to be fun.

White denim is sort of like magic.



I've been a fan of cropped pants since I was a teenager, though the overuse of the silhouette c. 2000-2002 kind of turned me off.

But I read an excellent suggestion earlier this year, which made cropped pants seem very fresh to me: wear them with ankle boots or ankle-strap shoes.
On the topic of white pants, if you haven't seen
this post
(at right), it was one of my first entries and remains a favorite.
These pants are a heavy cotton twill — heavier than khaki, but not as coarse as denim. These are wonderful pants for summer.
I love the outfit, but that's not why it's a favorite post.


This is why it's a favorite.

Harper!

As good a photo of Harper as this is, it's not the best I have.



That designation belongs to this photo.

It's a bird! It's a plane! It's SuperHarp, come to save the world!

From Harper, me, and the entire staff of Directrice Global Industries, Ltd., have a fantastic weekend.

Top: JCrew Jackie Shell; Jeans: JCrew
Matchstick Jean
in White; Shoes: Sundance
Ciao Sandals
; Bracelet: Dina Mackney; Sunglasses: Illesteva; Bag: also JCrew