Are you wondering how long I am going to post business casual outfits while work and life have been profoundly disrupted?

I am going to do this until I run out of ideas or spirit — whichever comes first — because I feel that we are all craving a little normalcy and light entertainment. But don't imagine that I am not aware of what is going on around us. I am a news junkie.




Switching gears: I still have clothes and jewelry and bags from Argentina to show you! And this post is stuffed with them.

You've seen this blouse before from Jessica Trosman. It was shown in the store with this charming peacock blue sweater.

While I am not a huge fan of the cold shoulder look, something about one cold shoulder is very appealing to me.




The sweater is fitted and neatly compresses the voile blouse.

Note the graceful silhouette of the blouse — longer in back than in front.



This color is so deep and compelling; I want to sink into it.

Also note the black topstitching on the blouse, such an elegant detail.



Now here is a surprise: a second cutout!

I am not entirely certain about this second hole. But the first hole is so winning, who am I to gainsay the designer's subsequent choices?
Here are some shots that show the sweater better, as well as allow you a closer look at my necklace, which is also from B.A.
Are you horrified by all I bought? Am I horrified? How horrified are we on a scale from 1-10?



The bag is from B.A., too, from a store called Humawaca. This brand makes the most beautiful pieces — simple designs, beautiful colors, the lightest leather. This bag weighs nothing. Had it weighed more, I would not have come home with more than one.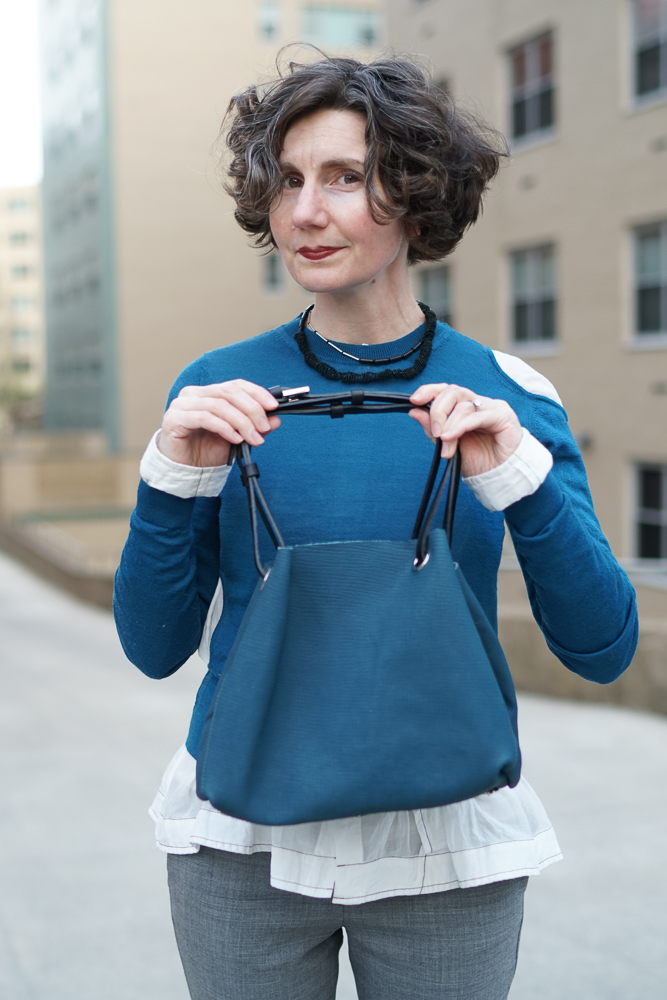 The necklace, from the Autoria Shop, is handmade.

It's one long strand divided into 3 segments: a long section of beaded, twisted wire in an undulating shape; a short section of long, tubular black beads, and; a short segment of thinner, silver beads. I've doubled the strand around my neck.


I am not sure that this blue field is the best backdrop for the necklace, but it's not bad. Perhaps it would show best against white or cream.

And now a request: Please share your favorite mystery writers! I have read many books by Agatha Christie, Dorothy Sayers, Josephine Tey, and Sarah Caudwell as well as more current authors like Louise Penny, Charles Finch, Elly Griffiths, and Deanna Raybourn. But I am always looking for new material. I prefer an amateur sleuth (preferably an English woman), a touch of romance (ideally kept at a low boil for the length of a series), and wit. I want to be entertained, not terrified. Help me!