Despite holding myself out as a pseudo-expert on dressing for work, wardrobe-building, and general efficiency, I have some orphans in my closet.

One such orphan is a purple tweed jacket that I bought several years ago from JCrew. I love the color and pattern — an over-sized, diamond herringbone — but . . . it's a little loud.


I've been trying for years to find something to wear with this busy jacket. I had thought that I needed to find a blouse or sweater that would calm the jacket down a little. I tried a dull, high-neck purple silk blouse, a close-fitting merino wool turtleneck sweater in purple, several ivory sweaters, and none of them seemed right. And then it occurred to me that I might be coming at the problem all wrong. Maybe a busy jacket cannot be calmed by a quiet top. Maybe it needs an equally busy partner to exert a cancelling effect. Not unlike noise-cancelling headphones.



I have just the thing!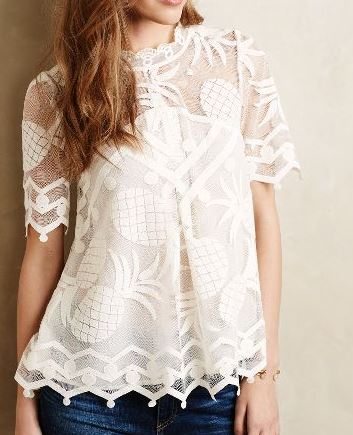 I've said it before, and I don't think this is the last time I'll say it . . . Sometimes the only way out is through.


A solution may reveal itself when one acknowledges the possibility that one's ideas are dead wrong.

This is a liberating concept and it applies to more than one's closet.

Caveat: Don't go around telling everyone that you're dead wrong. Keep that part to yourself. Share the good idea that comes after you acknowledge to yourself — silently — that you're dead wrong.
Behold!


The collar of the blouse works well with the neckline of the jacket.


The jacket looks as nice unbuttoned as buttoned.


Let's take another look at that collar.

So pretty. So feminine.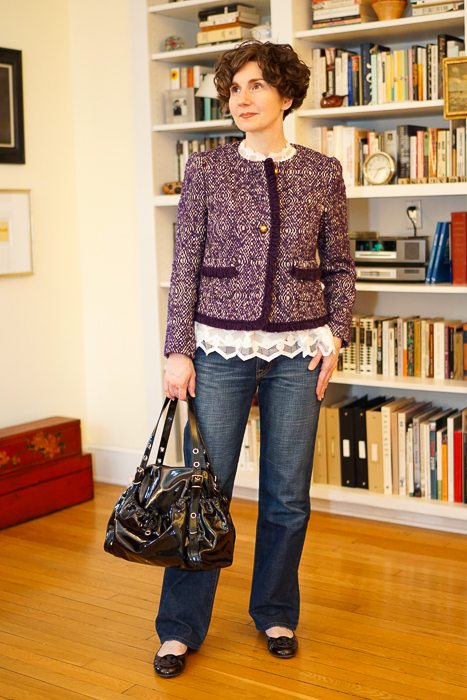 And now, a couple of random recommendations.
If you are looking for an entertaining action film with no violence and only a bit of swearing, watch
Unstoppable
. It was underrated when released in 2010 but is actually a
fine piece of movie-making
. I am not saying it's a masterpiece, but it's a very professional film from Tony Scott in which a potential disaster is beautifully, and very economically, set up and the villain is . . .
an unmanned train
. Please think of me every time the action cuts to a shot of the unmanned train (or the Stanton Curve) and
you recoil
.
If you are looking for a piece of classical music that you haven't heard before, listen to Boccherini's String Quartet in C Major G.324, Op. 30, No. 6 which you can buy
here
. The third movement (Los Manolos) sounds so modern. When I first heard it, I assumed it was a 20th century composition.


Have a fantastic weekend!

Jacket: JCrew; Blouse: Anthropologie; Jeans: Lucky; Shoes: Tory Burch Reva Flat; Bag: Car Shoe