Earlier this year, The Directorate celebrated the acquisition of the perfect (for me) cropped white denim and off-black denim. I thought you might like to know how the denims have been doing.





I wore this white blouse with white denim and blue denim jacket for travel this summer and, if I may so, thought I looked quite chic at the airport with a blue-and-white floral mask — over a proper medical grade mask.

Obviously, getting vaccinated is the higher call of the social contract right now, but dressing nicely for the airport is still on the list.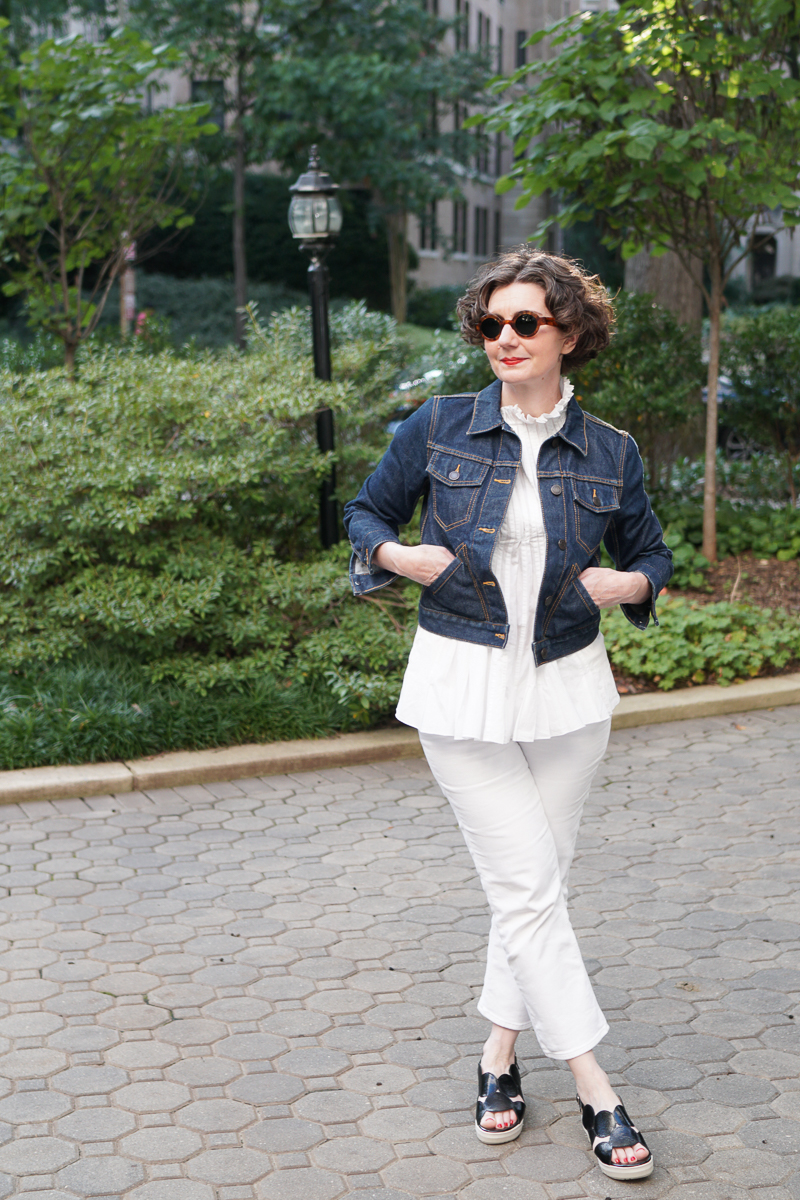 As previously mentioned, this Marni blouse came from The RealReal. I recently realized why The RealReal is working so well for me.

When I buy new things, there is a always a little part of me that thinks, How soon will I ruin this?

Perhaps ruin is too strong a word, especially since I take very good care of my clothes — but regular wear and use of clothes inevitably cause fabrics to lose their color, structure, or softness. Deodorant, perspiration, laundry detergent, and even dry-cleaning take a toll.

But when I buy something second-hand, I don't even ask the question because the garment isn't brand-spanking new. We've already exceeded expectations from Day 1.



Thus, the RealReal has allowed me to relax.

Notably, when I first wore this top, I got deodorant (Schmidt's*) under the arms and then somehow made a greater mess trying to pre-treat the deodorant stains with OxyClean. I soaked the stained areas in cold water — which did lighten the deodorant stains, but created a larger set of yellow water stains all over the top. Duly noted.

President Valet+ cleaned everything and returned the top looking
. . . better than new-to-me.



Switching gears to black, which is harder (but not impossible) to stain, is a similar silhouette.

My best friend gave this beautiful plisse pleated top to me several years go. It's just the thing to wear with fitted pants.


Come a little closer to see the texture and pleats of this fabric.



It's felt hard getting dressed for work in September. Like many, I am feeling deflated about the fact that a significant return to the office around Labor Day — which seemed possible in June — is not going to happen. Add to this the annual dissonance of dressing for fall when it's still 85 degrees and . . . I am questioning why I bother.
Why do I bother?
In order of proximity, but not significance, I do it for:
myself (because I still do love clothes);
The Photographer (to look nice);
my colleagues (to project normalcy, good cheer);
The Directorate (commitment to community);
for all mankind (to honor my part of the social contract).

Remember this, Directorate: If I start wearing leggings and t-shirts all day, I need help.

* Sometime, long ago, we discussed natural, aluminum-free deodorants. After trying several, I settled on
Schmidt's
, which comes in several appealing scents. I like bergamot/lime. The Photographer uses it, too, but purchases the more manly scents. Several years ago, Schmidt's produced a "Holiday Spice" product that smelled like mulled cinnamon cider, pumpkin pie, a Frasier fir, and a giant pile of beautifully-wrapped presents all at once. Unfortunately, it was not sold in 2019 or 2020. The Photographer and I have discussed escalating our gentle efforts (thus far, mosh notes sent to Customer Service) to something more forceful. Setting aside this minor complaint (deprivation of favorite scent), I love this brand. Unlike aluminum-based products, which cause significant yellow stains under the arms, this brand of deodorant does not stain or damage clothes. I probably don't even need to pre-treat them before laundering.
+ President Valet at 5514 Connecticut Avenue NW has survived the pandemic and is surprisingly busy. Clearly I am not the only person putting on real clothes everyday. It's less convenient for me than Diplomat Cleaners (which closed its storefront on Connecticut Avenue but will pick up and drop off cleaning), but does an excellent job.