In some of my favorite comfort reading (books by Jane Austen, Louisa May Alcott, Georgette Heyer) the female characters extend the lives of their clothes (and hats) by remaking them periodically. I've always found this concept charming (although for most of these fictitous practitioners, it was a measure of harsh economy) and at the start of every season, I go through my clothes to see whether anything worn, out-moded or ill-fitting can be re-made.
For instance, this top came with a silk sash, which was faded and limp (faded + limp = wan) after one summer's wear. To be fair, I shouldn't have been putting it in the wash. So I discarded the wan sash, went to G Street Fabrics and bought some crisp brown linen, and asked my tailor to make a new sash for me. With the new sash, the blouse looks very fresh.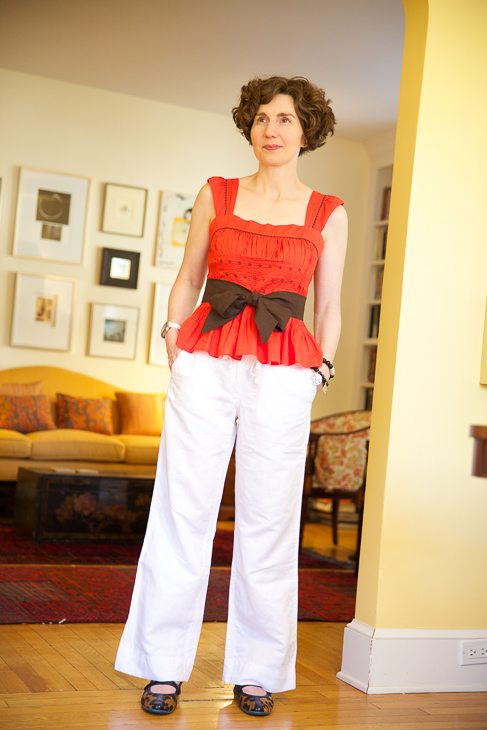 This sundress was originally strapless and the bodice sat oddly on me. By adding little straps — made with fabric stolen from a deep hem — the fit was corrected.


In addition to fitting better, as an extra bonus, the dress feels more secure and less bare. Note: If the hem had not been so deep, I would have stolen a little fabric from the width of the skirt, which is quite full.


Better than new! And, good for the pocketbook and the environment.

So, with the change of seasons upon us, it's a great time to look over your summer clothes and figure out how to rejuvenate what you already have. Sometimes the difference is as small as buying a new camisole to wear underneath something sheer, replacing a set of buttons, or tightening an armhole. Good luck!

Blouse: Anthropologie; Pants: JCrew; Leopard Mary-Janes: Cole Haan; Bracelets: Gavilane; Dress: Banana Republic; Silver sandals: Tory Burch Reggie Metallic Gladiator (2014); Bag: Coach Legacy Duffle Bag in Sunflower; Watch: Michele Watches (white alligator strap)