We're out on location and I have dragged The Photographer to one of my favorite intersections in Washington, D.C.

Perhaps you are saying, FaVOriTE iNtERseCTiOns? WhAt? WhY?



Stay with me. Hear me out.

By "favorite intersections," I mean a spot where you get great urban views from multiple perspectives. Like this:


And now I've just turned around.



I am between two landmarks: the National Portrait Gallery (originally the U.S. Patent Office) and the Carnegie Library. The elegance of both (Greek Revival, Beaux Arts) is soothing my eyes, my mind, my spirit. And yet I feel something looming, something pressing down upon me.
It's not a modern masterpiece, but my inner-magpie nevertheless responds to the glitz of a mirrored building nestled in between early 20th century brick and marble buildings.

Of course the very best example of this, in my opinion, is Copley Square in Boston, where the Boston Public Library, Trinity Church and the Hancock Tower live together. Each is a masterpiece and together they are magical.

The Directrice takes it all in.


On to business! What am I wearing?

A white blouse, a tiny sweater vest, and cropped jeans with the cutest shoes ever.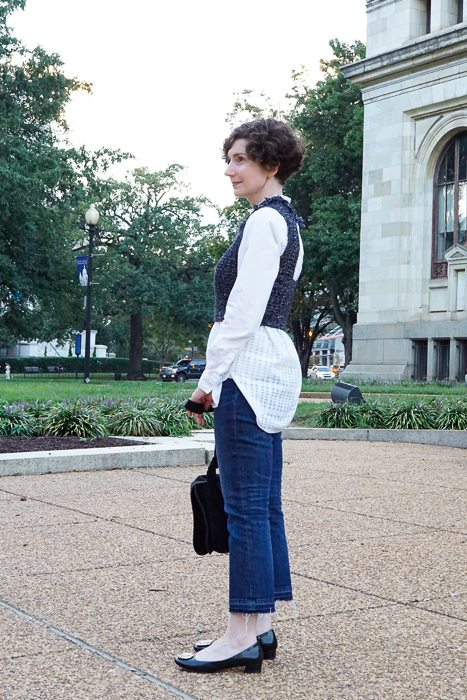 You've seen
this blouse
before. It's big and boxy, made of crisp cotton. Mitigating elements, however, are: mandarin collar (reduces bulk), gauzy back.
But for
the mitigating elements, it might overwhelm me.
Take note, wardrobe planners: Having at least one collarless white blouse is a good idea. Sometimes (often) you want
a white collar
to serve as an accent. But occasionally you want to reduce bulk; collars can be tricky to fit under certain sweaters and dresses. At those times, the mandarin collar is genius!


See how nicely this mandarin collar fits under the sweater? A traditional collar would not have worked.


I saw this sweater on Intermix Online. It was worn under a backless blazer with nothing underneath. Not right for my office, but I could see the possibilities.


But the best part of this outfit is the shoes.

Perhaps you are thinking, How would I know, Directrice? You've been yammering on about city views and showing me pictures of a tacky bank building.

Fair enough.

Let it never be said that the Directrice is not a man of her word.

Behold the cute shoes:
According to
A Guide to Elegance
, a well-dressed woman should replace her good shoes every year.
Since I am not living in post WWII Paris, I have the luxury of owning a few pairs — rather than a single pair — of good black shoes and therefore can keep them in excellent condition for a few years. But I do need to refresh periodically.
These were sort of irresistible.
Have a fantastic weekend!
Sweater: Jonathan Simkhai
Shredded Linen Blend Cut Out Knit
(marked way down, but runs very small; I am wearing a medium after I nearly dislocated my shoulder trying on a small); Blouse: Vince; Jeans: JCrew; Shoes: Tory Burch; Bag: Marni